Welcome to week 3 families!
We can assure you that it has never been easier to wake up the 40 kids that were going to Port Aventura yesterday. Everyone was very excited and dreaming about all the roller coasters that they were about to ride. We got to the park, that would get us to Costa Caribe and Port Aventura, by 10am. The groups, made in function of age and rooms, entered with their respective monitors after taking a couple of pictures. The older ones jumped on most impressive rides such as Dragon Khan, Shambala, Hurakan Condor, Furius Baco and others, while the little ones spent most of the time at Sesamo Aventura. They all gathered at lunch time, in la Cantina in the Mexico ambience of the park.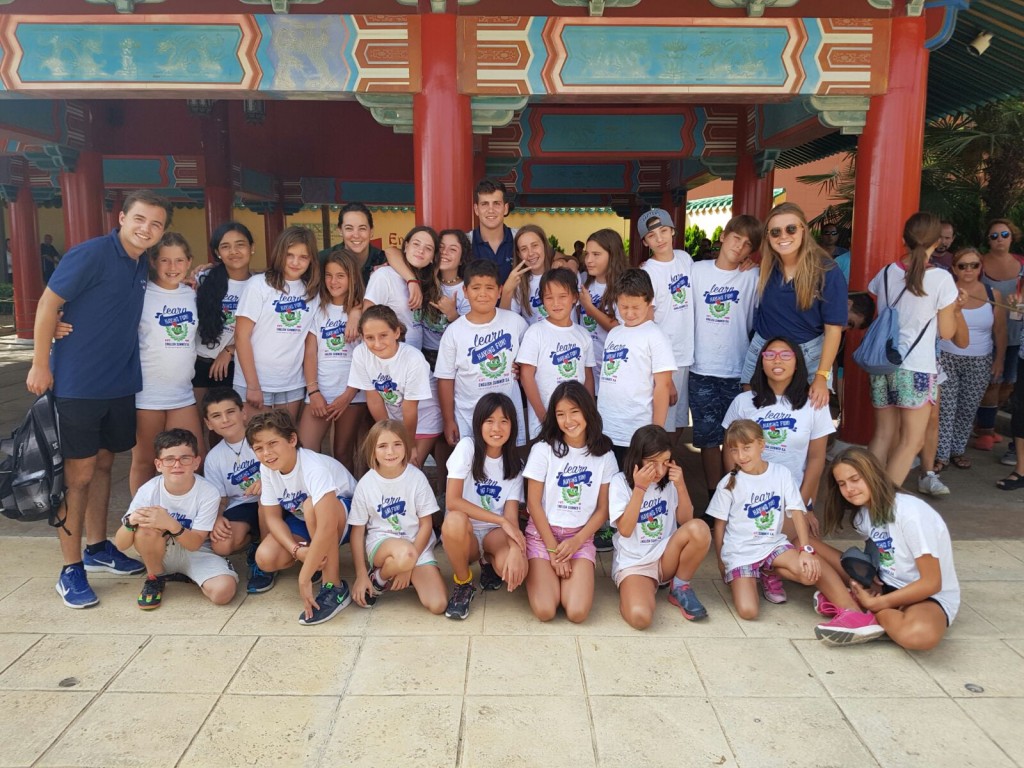 ———————————————————————————————-
¡Bienvenidos a la tercera semana familias!
Os podemos asegurar que nunca nos ha sido tan fácil despertar a los 40 niños que se iban a Port Aventura ayer por la mañana. Todo el campamento estaba muy emocionado, en el desayuno los niños debatieron cuales eran las mejores atracciones. Llegamos al parque, que nos lle­­­vaba tanto a Port Aventura como a Costa Caribe, sobre las 10am. Los grupos, hechos en función de la edad y del monitor, entraron justo después de tomar unas fotos. Los mayores fueron directamente a las atracciones más impresionantes como Dragon Khan, Shambala, Hurakan Condor, Furius Baco u otros; mientras los pequeños se quedaron por la zona del Sésamo Aventura.
Todos se reunieron a la hora de la comida, en la Cantina, que se sitúa en el ambiente mejicano del parque.
———————————————————————————————-
In Costa Caribe, they also had the best time! All the students were able to slide all day long and enjoy the best views, with sun cream of course.
Meanwhile, at home, some monitors stayed with 12 students that preferred not going to the park. They enjoyed a relaxed and restful stay. In the morning, they did a Nature walk and went to the pool. During the afternoon, we first watched a movie, Pets, which the students liked a lot.
———————————————————————————————-
Los alumnos que fueron al Costa Caribe se lo pasaron en grande, pudieron deslizarse por todos los toboganes, incluyendo el famoso "amarillo" que es conocido por ser el más alto de Europa.
Mientras tanto, algunos monitores se quedaron en casa con los 12 alumnos que prefirieron no ir al Port Aventura. Disfrutaron de un día relajado en el que pudieron descansar. Por la mañana hicieron una excursión por el monte y disfrutaron de la piscina. Por la tarde, miraron una película muy divertida, Pets.
———————————————————————————————-
At 7 pm, all the groups met together at the park's exit and had a snack! Finally, the students went back home, had dinner outdoors, and enjoyed fun dances with the monitors.
­Esto es todo por hoy familias, mañana volvemos con más noticias. Stick around!
———————————————————————————————-
A las 19h, todos los grupos se reunieron fuera del para para merendar, comieron una deliciosa ensaimada. Finalmente, los students volvieron a Tamarit , se ducharon y ¡BARBACUE!
We are done for today but STICK AROUND because we will come back tomorrow with more news!
———————————————————————————————-
PS: Bear in mind that you can see all the term pictures in área de clientes and follow us in Facebook, Instagram and Twitter. See you next year!
PD: Recordad que podéis ver fotos de vuestros hijos e hijas en el área de cliente y seguirnos en Twitter, Instagram y Facebook.