Hi everybody!
How can the time pass by so fast? We cannot believe that this third week is almost coming to an end.
We woke up yesterday morning and were happy to discover a sunny day at last. Actually, it had been two days that the weather wouldn't let us enjoy the beach. As every day, the students went to class in the morning, and did the last checks for the exam of the next day. At break time, the monitors had already set up the stage of the night party, so the kids had a little teaser of what was expecting them at breakdown.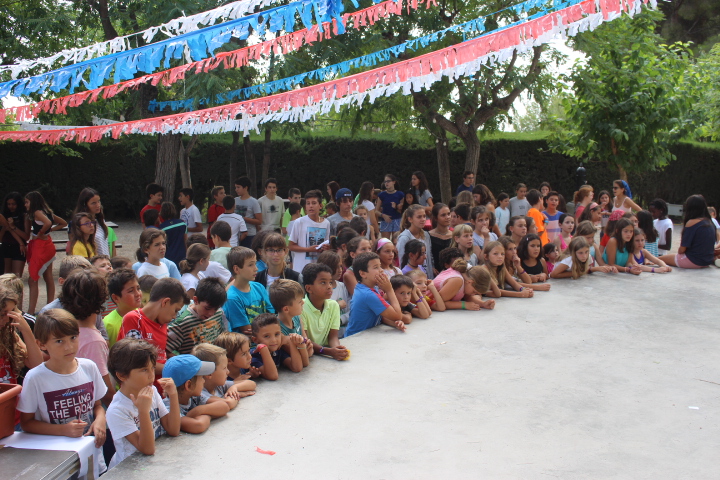 ——————————————–
Buenos días a todos,
¿Cómo puede ser que le tiempo pase tan rápido? No nos podemos creer que esta tercera semana ya esté llegando a su fin.
Nos despertamos ayer por la mañana y estuvimos contentísimos al ver que en el cielo lucía un sol radiante al fin. En efecto, hacía un par de días que el tiempo no nos dejaba disfrutar de la playa. Como cada mañana, los students fueron a clase, hicieron el último repaso antes del examen del día siguiente. A la hora del patio, los monitores ya habían montado una gran parte del escenario de la fiesta de la noche, así pues, los niños pudieron disfrutar de un pequeño teaser de lo que les esperaba al atardecer.
  ——————————————–
After lunch and the afternoon class, the students got changed and prepared to go to the beach! At 4:30pm we arrived to the beach, the day was wonderful, the sea was calm as a lake and we were all very excited and impatient to get into the water. We swam, did sand castle, played paddle, in short, we had the best time you could imagine. At 6pm, we came back to the camp, had some snack and started an Olympic rotation. As the term is almost over, the teams are being more and more competitive trying to scratch every available point.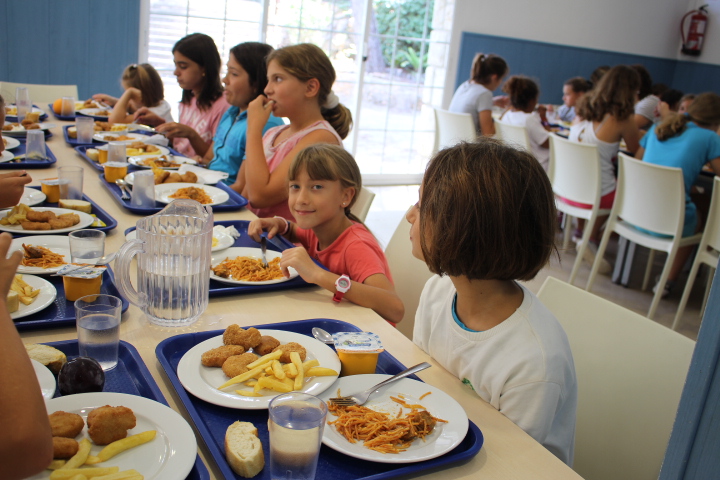 ——————————————–
Después de comer y de una hora de clase, los alumnos se cambiaron y se prepararon para ir a la playa. A las 16h30, llegamos a la playa, el día estaba estupendo, el mar llano como un lago y estábamos todos impacientes de pegarnos un buen chapuzón. Nadamos, hicimos castillos de arena, jugamos a palas, resumiendo, que nos lo pasamos genial. A las 18h, volvimos al campamento, merendamos y empezamos una rotación de Olympics. Al estar acabando el turno, los equipos lo dan todo por rascar el máximo de puntos.
 ——————————————–
They had to rush a bit around 8pm, because they had to be fully ready and dressed up to go to CAMDEN TOWN. They were actually invited to go to the town major party, they enjoyed a very nice dinner based on charcuterie and local food. They were called by room groups and sat down in long tables. The night officially started with the toast presided by the major of the town. During the evening, big celebrities came, Shakira and Carlos Vives among them. The major also distributed some important titles which awarded the kindness, the enthusiasm and the education of the kids. The night ended with a group of singers that interpreted Dust in the Wind and reminded the kids of the unforgettable moments spent in Tamarit.
 ——————————————–
Los niños tuvieron que ir con un poco de prisa a la hora de las duchas ya que a las 20h30 estaban invitados a CAMDEN TOWN. Estaban todos invitados a la fiesta mayor, disfrutaron de una cena a base de productos locales. Fueron llamados por grupos de habitación y se sentaron en mesas largas. La noche empezó oficialmente con el brindis dado por el alcalde del pueblo. Durante la noche, grandes celebridades vinieron a actuar, como por ejemplo Shakira y Carlos Vives. El Alcalde también repartió premios que premiaban la educación, la motivación y el buen compañerismo. La noche acabó con la actuación de tres cantantes que interpretaron Dust in the Wind, y recordaron los momentos más inolvidables pasamos en Tamarit.
  ——————————————–
PS: Bear in mind that you can see all the term pictures in área de clientes and follow us in Facebook, Instagram and Twitter. See you next year!
PD: Recordad que podéis ver fotos de vuestros hijos e hijas en el área de cliente y seguirnos en Twitter, Instagram y Facebook.