Buenos días papás y mamás,
Ayer en la casa de Tamarit nos remontamos a los años cincuenta, la década del Rock and Roll. ¡Qué ganas de que llegara este día! Las cámaras nos acompañaron desde la mañana, fotografiando el día en los campamentos de verano.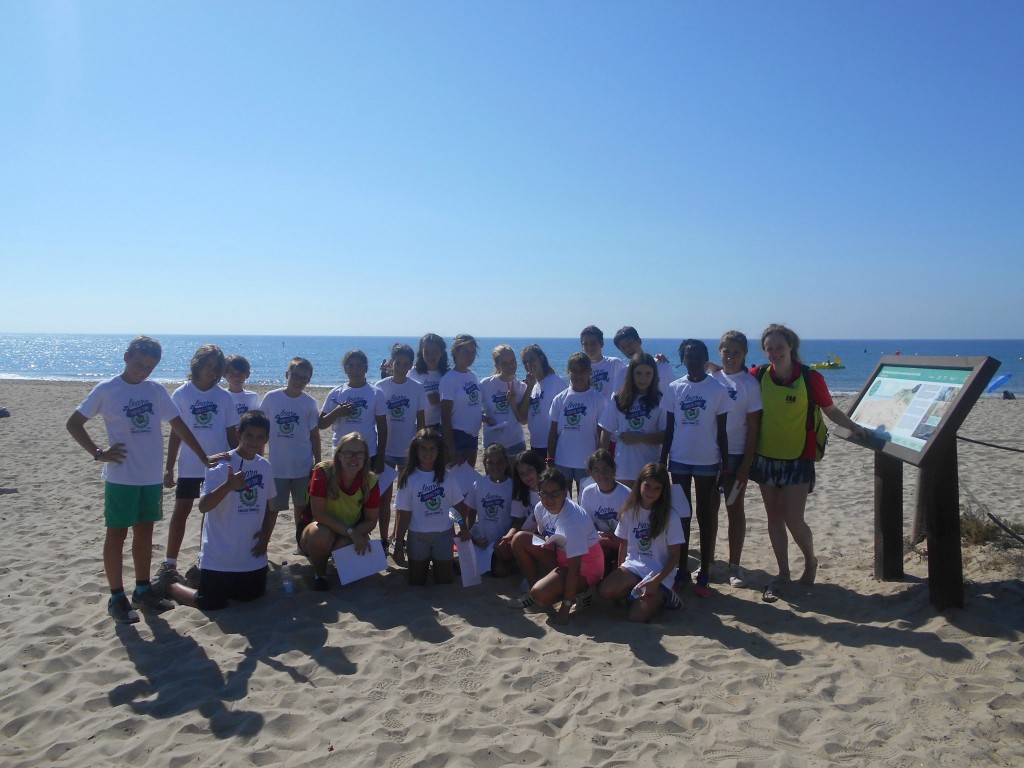 Después de despertarnos, y a diferencia del día anterior, no hicimos "Froggy Games",sino que desayunamos pronto para poder hacer todas las fotos de grupo así como la foto general del turno.
Todo trascurría como el día anterior hasta que… ¡tuvimos una visita a la hora de comer! Las Pink-Ladies entraron alborotadas en el comedor, bailando y anunciando que se acercaba una gran fiesta por la noche. Lo más importante es que todos tendrían que asistir y, a ser posible, participar en las diferentes acividades y bailar junto a todos los personajes los bailes típicos de la noche más americana del turno.
Una vez acabamos de comer, los alumnos fueron a clase y después a las piscina. Al regresar, merendamos para coger fuerzas y.. ¡jugamos otra rotación de Olympics! Antes de los Olympics hicimos también los Clubs. ¡Esta vez tocaba "Big Games" y «Chemistry experiments». Los alumnos jugaron por equipos a los distintos juegos tales como el Twister, la Jenca… todos ellos de grandes dimensiones. El resto de equipos aprendieron que que hay ciertos fluidos que pueden ser a la vez líquidos o sólidos dependiendo de la presión que les apliquemos. Es el caso de los fluidos no newtonianos, en nuestro caso demostramos como funciona el experimento con agua y maizena.
Por último, después de la ducha, nos caracterizamos de los años cincuenta. Cada alumno debía inspirarse en los años cincuenta para elegir su mejor indumentaria y optar a ser el ganador de la noche. ¡Cuántos rockeros, rockeras y T-Birds por Tamarit! Esta vez cenamos todos juntos en el forest garden, disfrutando del show que iba trascurriendo durante la noche. Una actuación de nuestras Pink Ladies abrieron el espectáculo, seguidos de los T-Birds que llegaron enérgicos con el coche.
Finalmente, después del show ¡era hora de los juegos! Los alumnos se dispersaron por las distintas pruebas tales como water-pong, bolos… y como no, nuestra prueba más esperada, ¡Tiro al MP!
La noche fue todo un éxito y nos fuimos a dormir agotadísimos.
¡Nada más por hoy! ¡Mañana más! Un abrazo a todos y os invitamos a seguir nuestro día a día a través de las fotografías del turno que encontraréis en el área de clientes y seguirnos en Facebook, Instagram y Twitter. Recordad también que podéis mandar e-mails a vuestros hijos a esftamarit@englishsummer.com
---
Good morning parents,
Yesterday we went back to the 50´s, to the decade of Rock and Roll. So excited this day finally arrived! From the early morning the cameras followed us everywhere, taking photos of a summer day in our camp. After getting up, unlike the other day, we didn´t do "Froggy Games", but we took some photos and videos in groups and also as a general one of all students and staff together.
Then the day continued in same way as always when suddenly… we had an unexpected visit during the lunch! The rowdy Pink Ladies entered in the dining room dancing and invited everyone to a big high school party.
After having lunch, students went to the lesson and then we all went to the swimming pool. When arriving to the house we had snacks and then played the rotation of The Olympics! But just before The Olympics we did the Clubs. This time it was the turn of "The Gig Games" and «Chemistry experiments»! The students played games such as Twister, Jenca etc. And all of them were of a giant size! The other teams learned that there are certain fluids that may be liquids or solids to time depending on the pressure we apply them. In the case of non-Newtonian fluids, in our case we demonstrate how the experiment with water and cornstarch works.
Finally, after the shower, we dressed up as if we all were living in the 50's. Everyone was trying to look good and alike those days because there were awards for the best costumes in the end of the party. It is striking how many rockers were there that night in Tamarit! This time we had dinner all together in the forest garden, enjoying the show was going on during the party. Preppies started the performance, then energetic T-Birds arrived by car and lastly Sandy and the Pink Ladies attracted our attention.
Finally, after the show It was time for the games! Students were scattered throughout various games such as water-pong, bowling … and of course, most anticipated of our games, shoot the MP!
The party was finishing with some dances of the turn, and then… there was one more surprise! The monitor's director, with his acoustic guitar, and one MP, with her amazing voice, presented the last song "You better shape up". There couldn't have been a better ending for this party. And in the end we went to sleep very tired but very happy.
The night was a success and went to sleep very exhausted.
Nothing more today! More tomorrow! A hug to everyone and we invite you to follow our daily lives in the customer area and follow us on Facebook, Instagram and Twitter. Remember also that you can send e-mails to your children to esftamarit@englishsummer.com