¡¡¡Hola de nuevo mamis y papis!!!
Ayer empezamos el día muy temprano y a las 8:15h de la mañana hicimos los Froggy Games para despejarnos ¡y empezar el día con buen pie! Después de hacernos la cama fuimos directos a desayunar para coger energía para todo el día y a las 10h empezaron las clases del campamento de inglés. Entre clase y clase tuvieron un descanso de 30 minutitos y a clase otra vez! Cuando las clases acabaron fuimos a comer todos juntos y volvieron a clase.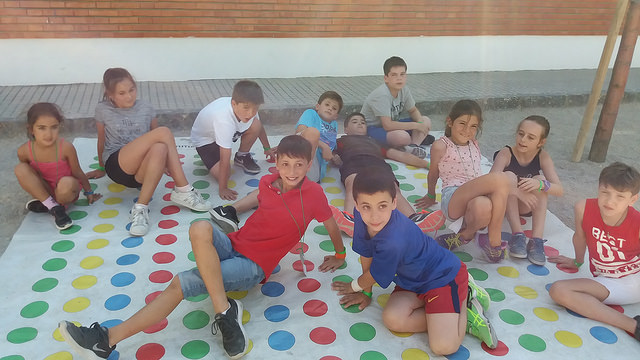 Por la tarde nos dividimos en dos grupos: un grupo fue a hacer watersports y el otro a la piscina y a hacer diferentes actividades super entretenidas a las cuales llamamos «Clubs». A las 18:15h merendamos todos juntos. Después de merendar nos dividimos por grupos de los Olympics y nos presentamos. Hicimos juegos para conocernos, preparamos el himno que definiría nuestro equipo, un baile que lo acompañara, elegimos los capitanes del equipo y repartimos las camisetas que llevaremos cada tarde para los Olympics.
A las 20h los niños se ducharon, se pusieron las camisetas correspondientes y a las 20:30h fuimos a cenar por equipos. Justo después de cenar empezaron los Olympics. ¡Qué ganas! Los monitores prepararon un escenario enorme con mucha decoración ambientada en Los Juegos Olímpicos e hicieron una pesentación de la actividad de noche y de cada uno de los equipos. Acto seguido, fuimos a la cancha de baloncesto y jugamos contra diferentes equipos y animamos al nuestro con el himno preparado previamente. ¡Qué guay!
Cuando acabaron los partidos nos reunimos por habitaciones y fuimos a dormir, ya que el día siguiente nos esperaba un día lleno de aventuras.
Así que: «Shhh… Good night!»
Recordad que siempre nos podéis seguir en:
---
Hello again, mums and dads!!!
Yesterday we started the day very early and at 8:15 in the morning we did The Froggy Games to clear ourselves and start the day the best way we could! After making the bed we went straight to have breakfast to get energy for the whole day and at 10 o'clock the classes of the English Summer Camp began. Between classes they had a break of 30 minutes and went to class again! When classes finished we went to eat together and went back to class.
In the afternoon we split into two groups: one group went to do Watersports and the other to the swimming pool and to do different entertaining activities called «Clubs». At 18:15 p.m., we all had dinner together. After lunch we divided into the Olympic groups and we played games to get to know each other, we prepared the anthem that would define our team, a dance that accompanied it, we chose the captains of the team and we distributed the shirts that we will wear each afternoon for the Olympics.
At 20:00  the children took a shower, put on the corresponding t-shirts and at 20:30 we went to have dinner by teams. Just after dinner the Olympics started. This was so exciting! The monitors prepared a huge stage with a lot of decoration set in the Olympic Games and introduced the night activity and each of the teams. Afterwards, we went to the basketball court and played against different teams and cheered our team with the hymn that we previously prepared. How cool!
When the games were over, we went to the rooms to sleep, since tomorrow we have a day full of adventures.
So: Shhh… Good night!
Remember that you can follow us on: