¡¡¡Buenas tardes mamis y papis!!!
El primer día del turno comenzó muy temprano, ¡¡qué ganas teníamos todos de empezar!! A las 8:15 h nos dividimos por habitaciones para despejarnos con los Froggy Games y una vez arreglados, fuimos todos directos a desayunar. ¡Ring ring! A las 9:45 h sonaba la campana que anunciaba el comiezo de las clases de inglés en los campamentos de verano. Pudimos conocer a nuestros compañeros de clase y a nuestros teachers y ya estabamos preparados para 3 horas de gramática y vocabulario en inglés, con 30 minutos de descanso para poder disfrutar de un rico snack. A la 13:15 h empezaron los primeros turnos de comida, ¡qué hambre teníamos! Una vez nos lavamos los dientes, volvimos a clase: era el momento de los juegos y canciones con los teachers. Los alumnos de WATERSPORTS sin embargo, fueron directos a hacer vela, padel surf, snorkel y surf XL. ¡Qué divertido!
Con las clases del día terminadas, a las 16:15 h nos reunimos todos juntos para repartir las actividades de la tarde: primero, piscina para los Juniors y las distintas actividades de los Clubs para los Seniors; después los Seniors fueron a la piscina, los Juniors a los Clubs. ¡Cómo nos apetecía un buen chapuzón!
A las 18 h, paramos 30 minnutos para disfrutar de un buen bocata para merendar y recargar pilas, porque ¡¡¡empezaban los Olympics!!! Nos reunimos con nuestros equipos para repartir camisetas, preparar el himno  y elegir a los capitanes del campamento de inglés. Llegaron las 20:00 h y con ello el momento de las duchas y la vuelta de los alumnos de Watersports. Todos limpios y preparados bajamos a cenar por equipos que la ceremonia de apertura de los Olympic Games estaba a punto de empezar. Los monitores habían preparado en la cancha de baloncesto un escenario enorme con decoración ambientada en los Juegos Olímpicos y presentaron la actividad de noche y cada uno de los equipos. Acto seguido, jugamos contra diferentes equipos y animamos al nuestro con todas nuestras fuerzas. ¡Qué guay!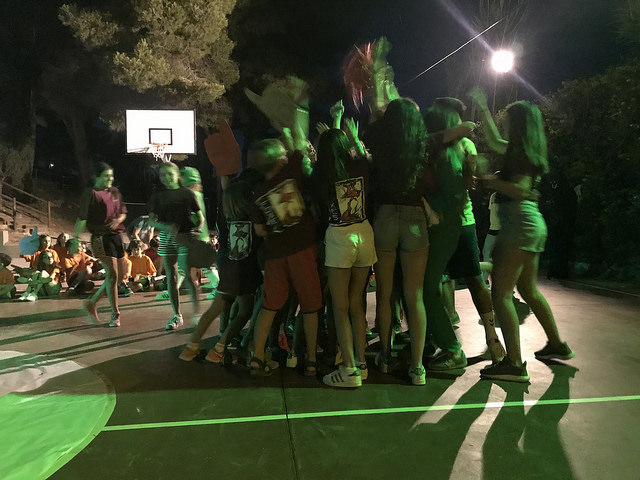 A las 23:00 h terminamos los juegos, nos reunimos por habitaciones y fuimos a dormir, ya que el día siguiente nos esperaba lleno de aventuras.
Mañana más. Good night!!
Recordad que siempre nos podéis seguir en:
---
Good afternoon Mums and Dads!!!
The first day of the camp started very early, how eager we all had to start!! At 8:15 we split rooms to clear the Froggy Games and once fixed, we went all direct to breakfast. Ring Ring! At 9:45 the bell announced the beginning of the English classes in the summer camps. We were able to meet our classmates and our teachers and we were ready for 3 hours of grammar and vocabulary in English, with 30 minutes of rest to enjoy a delicious snack. At 1:15 a.m., the first sitting of food began, how hungry we were! Once we washed our teeth, we returned to class: it was the time of the games and songs with the teachers. The students of WATERSPORTS however, were direct to do sailing, padel surf, snorkel and surf XL. How fun!
With the classes of the day finished, at 16:15 we all gathered together to distribute the afternoon activities: first, pool for Juniors and the various activities of Clubs for Seniors. Then, the Seniors went to the pool, the Juniors to the Clubs.
At 18 h, we stopped 30 minutes to enjoy a good sandwich for snacking and get ready, because the Olympics started!!! We met with our teams to distribute shirts, prepare the anthem and choose the captains of the English camp. The time of the showers and the return of the students of Watersports arrived. All clean and prepared we went down to dinner with our teams. The opening ceremony of the Olympic Games was about to start!!! The monitors had prepared on the basketball court a huge stage with decoration set in the Olympic Games and presented the activity of the night and each of the teams. Then, we played against different teams and we encouraged ours with all of our strength. How cool!
At 23:00 h we finished the games, we went to the rooms and went to sleep, since the next day would be full of adventures.
Tomorrow more. Good night!!
Remember you can follow us on: