¡¡Hola de nuevo papis y mamis!! ¿Qué tal?
Ayer nos despertamos a las 8:30 y fuimos a desayunar y a clase como siempre. Hicimos un break para desconectar y llamar a los amigos y familiares y volvimos a clase. A las 13:30 fuimos a comer por turnos y después hicimos la última horita de inglés.
Justo después fuimos a cambiarnos y un grupo se fue a la piscina y después hizo clubs y otro grupo se fue a watersports.
A las 18:00 hicimos un break para merendar y reponer fuerzas, nos pusimos ropa de deporte y empezamos los famosos Olympics de los campamentos de inglés. Hicimos una sola rotación y jugamos a distintos deportes: ¡fútbol, baloncesto, volley y muchos más! Cuando acabamos, fuimos a las duchas y a las 20:30 ya estábamos cenando. Comida mexicana, ¡qué rica!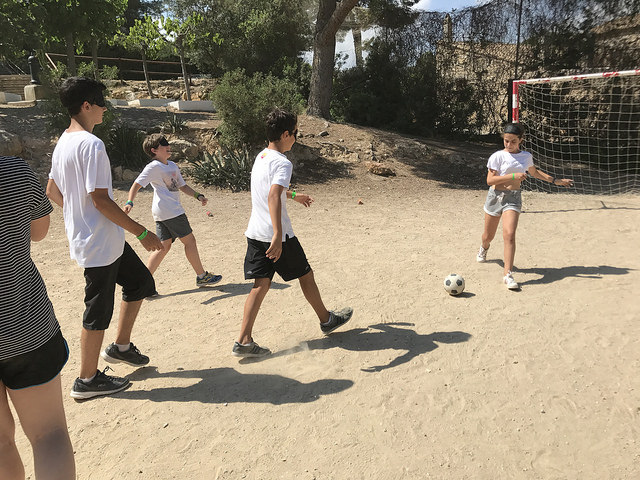 Una vez cenados, empezó la fiesta de la noche: ¡Polynesian Night! Todas las gradas principales estaban decoradas como si fuera paisaje de la Polinesia y los monitores iban súper bien disfrazados. Nos hicieron una obra de teatro donde nos contaban que había dos monitores escondidos por la casa y los tubimos que encontrar.
Cuando los encontramos, ¡como recompensa hicimos disco y fue genial! Qué pena que el turno ya se esté acabando…
Después de bailar durante casi una hora nos fuimos a la cama a descansar porqué la mañana siguiente era Reverse Day!
Hasta mañana family,
Good night!
Nos os olvidéis de seguirnos en las redes sociales:
---
Hello again, papis and mamis!! How are you?
Yesterday we woke up at 8:30 and went to have breakfast and to class, as always. We made a break to disconnect and call friends and family and went back to class. At 13:30 we went to eat in turns and then we did the last hour of English. Right after, we went to change and a group went to the pool and then made clubs and another group went to watersports.
At 18:00 we made a break to snack and rest, we put on sports clothes and we started the famous Olympics of the English camps. We made a single rotation and played different sports: football, basketball, volleyball and many more! When we finished, we went to the showers and at 20:30 we were having dinner. Mexican food, delicious!
Once we finished dinner, the party of the night began: Polynesian Night! All the grand stands were decorated as if it was a Polynesian landscape and the monitors were super well disguised. They did a play where they told us that there were two monitors hidden all around the house and we had to find them. When we found them, as a reward we had disco and it was great! It is so sad that we are leaving soon…
After dancing for almost an hour we went to bed to rest because next morning was Reverse Day!
See you tomorrow family,
Good night!
Don't forget to follow us on: