¡¡¡Buenos días familia!!!
Van pasando los días y cada vez queda menos para acabar, pero nosotros en los campamentos de inglés, ¡no paramos! Ayer tuvimos un día distinto pero espectacular en el que los monitores nos dejaron dormir un poco más por la mañana. A las 9:00 h bajamos todos rapidamente a por un buen colacao con galletas y cereales, que pudimos disfrutar todos en pijama: ¡Pijamas Breakfast!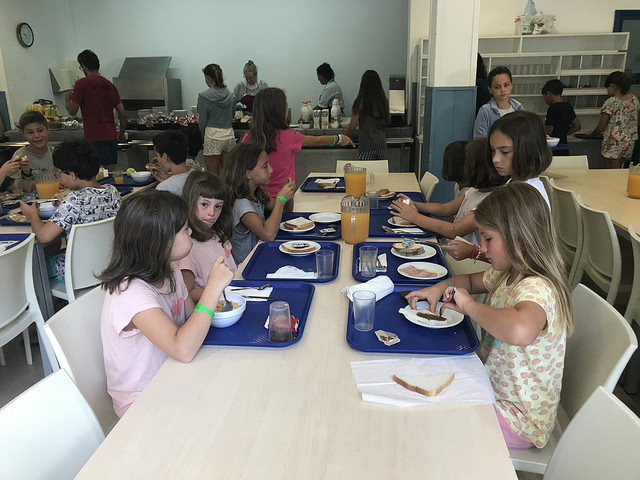 Nos pusimos todos los bañadores para, a las 10:00 h, irnos todos juntos a pasar la mañana a la playa. Allí tuvo lugar la famosa competición de castillos de arena por equipos, en la que los resultados fueron increíbles. ¡Muy buen trabajo equipos!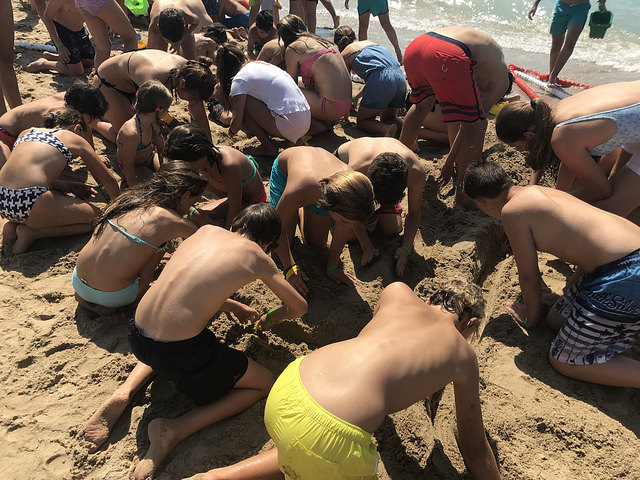 De vuelta de la playa, comimos y nos preparamos para las clases de inglés con nuestros teachers. A mitad de tarde tuvimos un break de 30 minutos para merendar y después continuar con las clases en el campamento de verano. A las 18:30 h subimos rapidamente a las duchas y a ponernos todos muy muy elegantes: ¡¡llegaban los Froggy Awards!! Todos los alumnos desfilaron por parejas hasta las mesas de gala y disfrutaron de una cena buenísima servida por los teachers y los monitores.
Una vez terminamos de cenar, llegaba el momento más especial de la noche: la entrega de diplomas del campamento de verano. ¡Qué nervios había! Fueron apareciendo las primeras nominaciones y durante la noche pudimos conocer a todos los premiados. Congratulations!
Como no podía ser de otra forma, terminamos la fiesta bailando y cantando y ¡nos divertimos muchísimo! Todos agotados subimos a dormir y descansar para poder estar a tope al día siguiente.
¡Mañana más y mejor! Good night families!!!!
Nos os olvidéis de seguirnos en redes sociales:
---
Good morning family!!!
Days go by and every time there is less time to finish, but we in the English camps, we do not stop! Yesterday we had a different but spectacular day in which the monitors let us sleep a little more in the morning. We all went down quickly for a good milk glass with cookies and cereals, which we could all enjoy in pajamas: Pajamas Breakfast! We put all the swimsuits and at 10:00 h, we all spent together the morning in the beach. There, the famous sand castles team competition took place, in which the results were incredible. Very good work teams!
Back from the beach, we ate and prepared for English classes with our teachers. In the middle of the afternoon we had a break of 30 minutes for lunch and continued with the classes at the summer camp. At 18:30 we went quickly to the showers and we dessed up very very smart: the Froggy Awards were coming!! All the students paraded in pairs to the gala tables and enjoyed a very good dinner served by the teachers and the monitors.
Once we finished dinner, came the most special moment of the night: the diploma delivery of the summer camp. What a nerve! The first nominations were appearing and during the night we were able to meet all the winners. Congratulations!
We finished the party dancing and singing and we had a lot of fun! All exhausted we went to sleep and to rest for the next day.
Tomorrow more and better! Good night families!!!!
Don't forget to follow us on: