¡Muy buenos días a todos!
El martes empezó de la mejor manera posible, nos levantamos a las 8:30h y bajamos al comedor a desayunar en pijama! Cuando terminamos, nos esperaba el fotógrafo del turno para hacernos fotos durante el día con nuestros monitores, teachers y compañeros. Llegó la hora de ir a clase y tras una hora y media hicimos un break para tomar algun snack en el bar y descansar de las lecciones con nuestros amigos. A las 12h volvimos a las aulas hasta que llegó el momento de ir a comer. ¡Ñaaaaaam!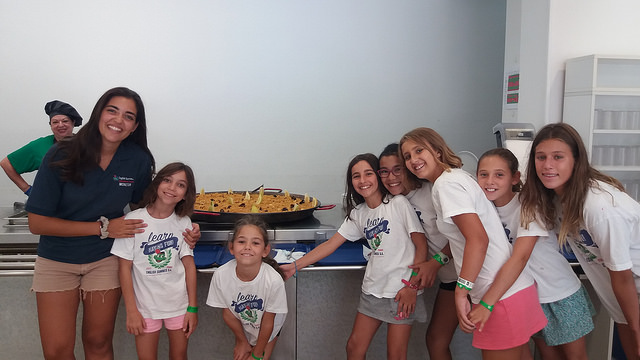 Los niños y niñas tuvieron tiempo libre hasta las 15h que volvieron a clase. Una vez terminaron, se reunieron por equipos y se dividieron entre juniors y seniors. Los juniors fueron primero a la piscina a hacer la swimming competition mientras que los seniors hicieron clubs (actividades y juegos dinámicos y lúdicos en inglés: learn english having fun!). Hicieron una rotación y después cambiaron los turnos (juniors clubs y seniors piscina). A su vez, aquellos alumnos que se apuntaron a Kayak ¡fueron a la playa a divertirse remando!
Tras tantas actividades los chicos y chicas fueron a merendar donuts y fruta y a las 18:45 inauguraron los partidos de los OLYMPICS. Las olimpiadas consisten en partidos de voley, fútbol, básquet y handball, donde cada equipo competirá contra otro en una de estas modalidades deportivas para conseguir ganar el oro. Después de una rotación, todos fuimos a las duchas a ponernos guapos para la fiesta de la noche… THE ROCK AND ROLL NIGHT!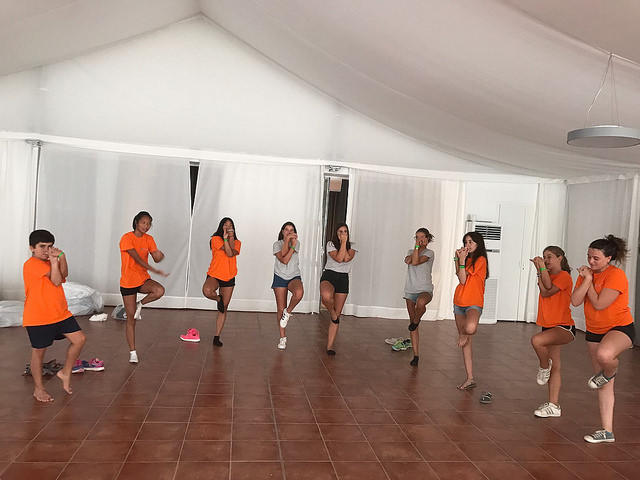 La fiesta consistió en ambientar la casa de Tamarit como si de la película de Grease se tratara. Los chicos se disfrazaron de Danny Zucko y las chicas de Sandy y sus vestimentas fueron de lo más rockeras. Disfrutaron de un buen teatro protagonizado por los monitores, de una buena cena made in USA y finalmente, de un concurso de baile por parejas. Al final de la noche se entregaron dos tipos de diplomas: THE BEST ROCK 'n ROLL DANCING PAIR (dos categorías: junior y senior) y THE MOST WELL-DRESSED (dos categorías: chico y chica). Después de bailar todos juntos nos despedimos y a las 23h ya estábamos todos en la cama a punto de soñar con esta noche que año tras año… ¡les encanta!
Recordamos que vamos a ir colgando diariamente información sobre el turno en el blog así como fotos en el área de clientes. También podéis seguirnos en las cuentas oficiales de English Summer de Facebook, Twitter y Instagram.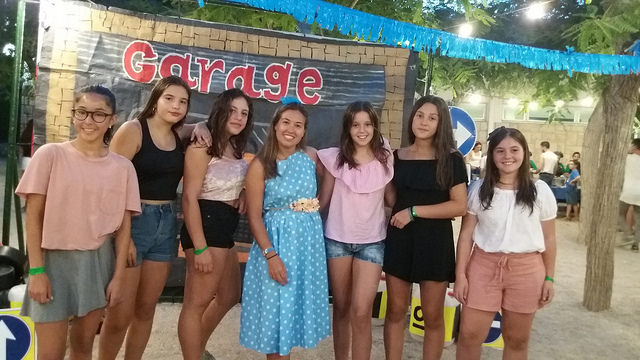 Good morning everyone!
On Tuesday we all woke up at 8;30 ready to start the day with a lot of energy!! First of all, we went to have breakfast on our pyjamas, so comfy!!!!! There the photographer was already waiting to take pictures of all the students together with their teachers and monitors. Then at 10 o c'clock they went to class until snack time. And then back again to classes until lunch time, they were all starving!!!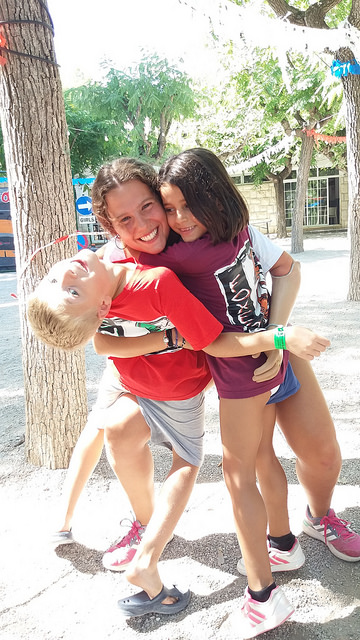 Before doing one more hour of English after lunch, they had free time. At 16:00 pm we met by teams and divided by juniors and seniors. Juniors went to the swimming pool first to do the competition while the Seniors did clubs all together! Afterwards they changed places. At the same time, some students went to the beach and practiced Kayak. Then before having shower they played the OLYMPIC GAMES!
At dinner time they ate USA burgers and at the same time they enjoyed a very nice performance held by the monitors about ROCK AND ROLL!! The party consisted on dressing up as Sandy and Danny and taking part in a dance contest just like Grease! Finally they were given awards to the best dancing couple and the best dressed!! At 23:00 they were all in the bed so… Good night!
 Remember that we are going to keep uploading updated information about the term in the blog, and pictures in the customer area. You could also follow us on our official Facebook, Twitter and Instagram accounts.