¡Muy buenos días a todos!
Ayer el día tuvo un sabor agridulce… muchos de nuestros niños y niñas iban a pasar su penúltimo día en el campamento y los demás que se quedaban otra semana querían pasar todo el tiempo posible con sus compañeros antes de que se fueran, aun así eran conscientes de que iban a disfrutar de 7 días más en Tamarit ¡y eso les levantó mucho el ánimo!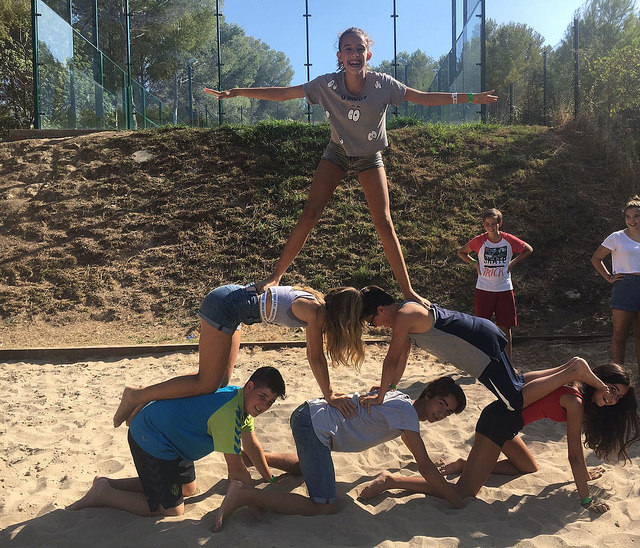 Desayunamos a las 8:30h por grupos de monitor y a las 10:00h los alumnos fueron a clase. Durante el break de la mañana repasaron un poco para el examen que harían en la próxima hora. Cuando terminaron el examen llegó el momento de ir a comer… yummy! Volvimos a hacer una hora más de lecciones hasta las 16:00h.
Tras salir de las aulas los juniors fueron a la piscina y los seniors hicieron clubs, después intercambiaron las actividades. A las 18:00h merendaron y jugaron los partidos de las olimpiadas. Llegó la hora de las duchas y una vez cenados, todos se prepararon para la fiesta de la noche… THE BIG FROGGY GAME!
Recordamos que seguimos actualizando diariamente la información del blog y subiendo las fotos al área de clientes. También podéis seguirnos en las cuentas oficiales de English Summer de Facebook, Twitter y Instagram.
Hey everybody!
Yesterday was a bittersweet day. We all knew that the last day was getting closer for some students and that made us really sad. Anyway, on the other hand we were happy once we thought that we were going to see our moms and dads again. Furthermore, the kids who will stay in the house one more week will spend 7 days more here!
The students did the exam in the morning and in the afternoon went to the swimming pool (first the juniors and then the seniors) and also did clubs (first the seniors and then the juniors).
Then we had a shower and we prepared for the party of tonight… THE BIG FROGGY GAME!
Don't forget we upload all the pictures in the customer area. You could also follow us on our official Facebook, Twitter and Instagram accounts.