Good morning everyone!!
Ayer todos los alumnos se levantaron con ganas de seguir dando guerra en estos campamentos de verano así que tras realizar todas las clases de inglés y comer con el monitor y el teacher volvimos a dividirnos en grupos. Durante la comida tuvimos un fantástico show de nuestras Kan Kan Ladies y nos presentaron la esperada fiesta de la noche, the FAR WEST!!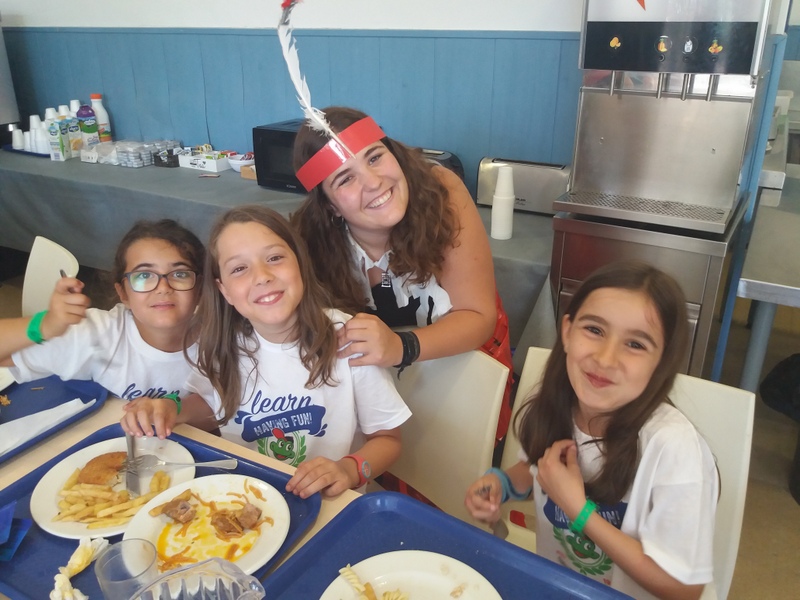 In the afternoon we went to the pool and took part in 'the clubs' where the kids were organized into their different teams. The clubs offered a wide range of different activities/workshops with the objective of getting all the children to cooperate, with the purpose of achieving the set common goal. In the afternoon, the students who participated in Jungle Trek went towards the 'tirolina circuit'.
If you haven't already noticed by now the students from 'English Summer' can never be found standing still. You cannot believe how much energy this kids have in them! However, by the time they arrived from their exciting activities both the shower and the dinner were already awaiting them.
La cena de ayer fue muy diferente y es que la fiesta de FAR WEST es increíble!! Hicimos un Self Service en la zona del front garden y pudimos disfrutar de una fantástica barbacoa. Todo estaba súper bien ambientado y es que por un ratito todos nos sumergimos en el increíble ambiente que ofrece el Oeste Americano. El teatro realizado por nuestros monitores estuvo genial y no paramos de correr y reírnos en toda la noche!!
Ésta mañana después de desayunar todos los alumnos han hecho sus clases de inglés y como cada día, en el morning break, han podido comprar en el bar y hablar con todos vosotros! Supongo que ya os han comentado lo bien que lo están pasando en estos campamentos de inglés!!
Tonight we will celebrate the 'formal dress' ceremony, in which our little stars have been patiently looking forward to since this summer camp began. Tomorrow we will let you know how it all develops.
Remember that we will be posting more information about the term in the blog and you can see updated pictures in your Costumer Area. You can also follow us on Facebook, Twitter and Instagram.
See you tomorrow!