Hello everybody! Yesterday all the girls and boys of our summer camp waked up really excited: Yes, the big day arrived! We were going to PORT AVENTURA and COSTA CARIBE!
All the students that stayed in the house started the day doing some arts and crafts and a ginkana that the MP's organized. After lunch, the kids watched a movie in Tamarit's cinema: ''Sing!''. Finally, they went to the pool where they danced and played some games.
Punctually, at 9:00 am the buses arrived. In 40 minutes all the students that went to the Park were in its doors.
Los alumnos que han ido a Costa Caribe han dejado las bolsas con un monitor y se han distribuido en grupos de 5 o 6 personas para ir a los toboganes y piscinas del parque. A las 12:30 hemos comido todos juntos y después de jugar un rato fuera del agua han continuado disfrutando del parque. Hoy el parque estaba muy tranquilo ya que las colas eran muy cortas y las piscinas estaban vacías.
Some girls and boys went to Port Aventura. They had an awesome time! They were divided with different monitors depending on the age. They ride in different attractions from "Stampida" or "Tren de la Mina" to "Shambala" or the "Dragon Kahn".  The park wasn't very crowded, and the lines were very short.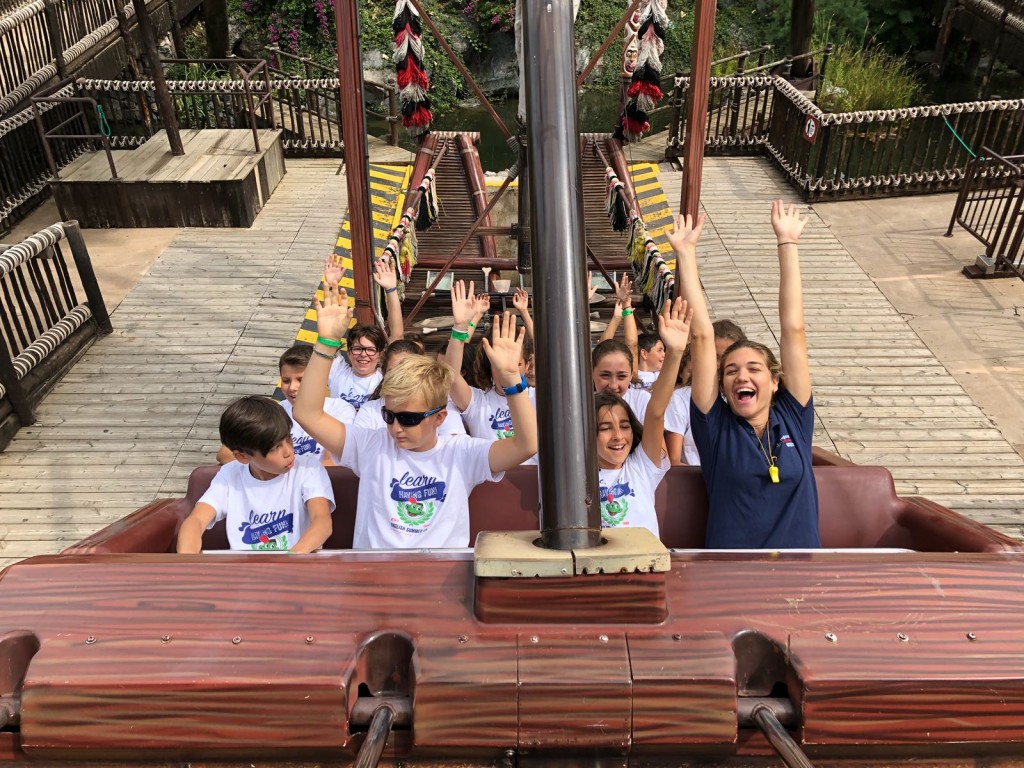 A las siete nos hemos encontrado los dos grupos a la salida del parque para merendar todos juntos antes de volver a la casa con los autocares.
All the students together had an outdoor-dinner with ribs, frankfurt and chips. After dancing some songs, we said goodbye to all the students that are leaving today. Sadly, even if we have two more weeks of 5T, some of the girls and boys have their Check-out today.
Today we also have a Check in! We are going to welcome 70 new students, 4 new monitors and 1 new MP.
Finalmente, queremos agradecer la confianza que tenéis en English Summer SA. ¡Estamos encantados de poder contribuir en la educación de vuestros hijos y hacer que pasen 1, 2 o 3 semanas de verano inolvidables! Esperamos volver a ver a todos los chicos y chicas que se han marchado hoy el año que viene.
¡Nos vemos mañana en una nueva entrada! Recordad que podéis seguirnos durante el turno a través de este blog y de nuestras redes sociales: Instagram, facebook y twitter. Watch the photos in our Client's area!!!