Good morning parents!!
Yesterday morning, after going to the English classes, we ate a very good lunch by sittings. At 3pm the students had another hour of class, but this time they did dinamic activities with their teachers. En algunas clases prepararon teatros, también hicieron actividades con las tablets… ¡y muchas cosas más!
A las 16:00, nos dividimos por grupos de monitores. The groups of the 1st and 4th sitting went to the beach and the groups of the 2nd and 3rd sitting did very fun clubs and went to the swimming pool. We had so much fun!!
Later, at 6pm in the break we ate salami sandwich and fruit as snack. Algunos de ellos también aprovecharon para coger algo del bar e irse a jugar para el World Championship. After this, we did a meeting by teams so they could all know each other. En este rato, los equipos  hicieron juegos de presentación, eligieron los capitanes, inventaron nuevos himnos para animar a sus equipos e incluso algunos se animaron a hacer pancartas. Is going to be a very exciting week because all the teams are very motivated.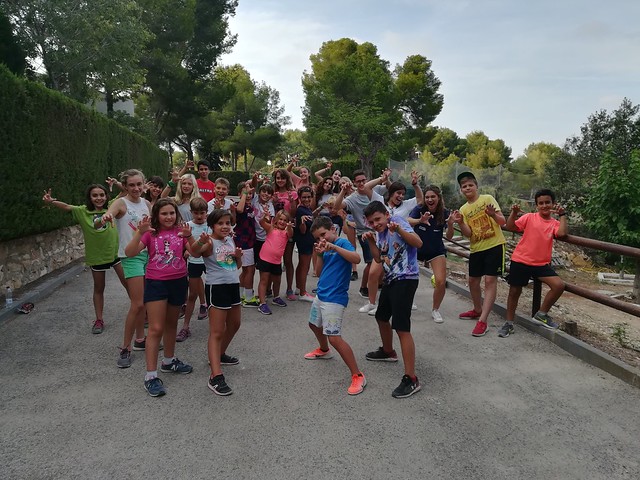 At 8pm the Day Camp students went home and the rest of them took a shower and got ready for dinner. ¡Y llegó la hora de la Oympic Disney Party! We had Mickey Mouse as the man host. He started introducing all the characters. We started with the bad villains: Cruella De Vil, Maleficient and Captain Garfio. In second place, the Disney Channel crew came on scene: Hannah Montana, High School Musical and Phineas and Ferb. Then we could see all the group that came all the way from Africa… The Lion King!! We got to see Simba, Scar, Timon and Pumba. Later, we met all the group of Alice in Wonderland: Alice, Ms.Rabbit, the Mad Hatter and the Cards of the Queen of Red Hearts… ¡qué miedo le tenían todos! Y la guinda del pastel la puso el grupo de Coco con su guitarra, las calaveras y dos mariachis que animaron a toda la grada.
After the show, the students could go by different stalls and try to win dollars. Those dollars went to the team boxes and count as points for the Olympics! Al sumar los resultados, quedó muy reñido entre todos los equipos, pero finalmente la victoria fue para los… DOLPHINS!!
For ending the night, we danced some of the favorites songs of the term and then… Good night!!!