Buenos días papás y mamás,
Ayer volvimos a llenar Tamarit de alegría y energía para empezar este último turno del verano… ¡English Alive 2019! Una vez finalizado el  check-in, los alumnos realizaron una prueba de inglés para saber la clase que mejor se ajustaba a su nivel. Después de hacer el test, monitores, MP's y teachers se reunieron con sus alumnos para presentarse y conocerse entre todos. Esta primera toma de contacto a la que llamamos Personal, sirvió también para explicar las normas de la casa, las tareas asignadas a cada integrante de la habitación y comentar, tanto los horarios, como el programa de actividades que seguiremos esta semana.
Después de cenar nos reunimos todos en las gradas del Sea Garden para presentar a todo el Staff  al resto de grupos y empezar la fiesta de la primera noche… ¡Welcome & Olympic night! Froggy y el resto de mascotas del turno vinieron a visitarnos a Tamarit para darnos la bienvenida y explicarnos en qué consistiría el juego de la noche. Los alumnos se juntaron con su equipo y compitieron contra otro en un total de 4 divertidas actividades en las que disfrutamos muchísimo.
Para poner punto y final al primer día bailamos la canción del turno y nos fuimos a dormir para cargar pilas… Esto acaba de empezar, ¡qué ilusión!
Recordad que podéis ver todas las fotos del turno en el blog y en flickr en el área de clientes, enviar correos a esftamarit@englishsummer.com para más información y seguirnos en Facebook, Instagram y Twitter.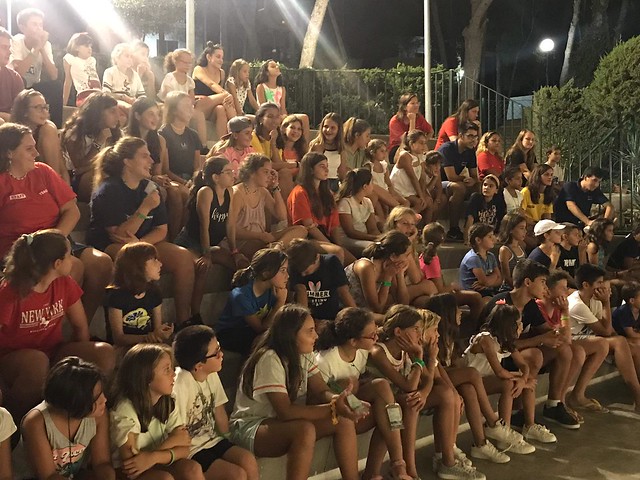 Good morning parents,
Yesterday we brought back joy and energy to Tamarit to begin the last term of the summer… English Alive 2019! Once the check in was finished, the students took an English test to know which class best suited their level. After doing the test, monitors, MP's and teachers met with their students to introduce themselves and get to know each other. The first contact which we call Personal, served to explain the rules of the camp, the tasks assigned to each child of the different rooms and to explain both the schedules and the program of activities that we will follow this week.
After dinner we all met in the stands of the Sea Garden to introduce all the staff to the Olympic teams and we began the party of the first night… Welcome & Olympic Night! Froggy and the other mascots of the term came to visit Tamarit to welcome us and explain to us what the game of the night would consist of. The students joined up with their team and they competed against each other in four fun activities which we all enjoyed a lot.
To end to the first day, we danced to the term song and we went to sleep to recharge our batteries… This is just the beginning, what fun!
Remember that you can see all the term photos on the blog and on flickr in the área de clients  you can send emails to esftamarit@englishsummer.com for more information and follow us on Facebook, Instagram and Twitter.