Buenos días familias,
Ayer martes 4 de septiembre estábamos todos muy ansiosos por la fiesta de Rock & Roll, un clásico de nuestro campamento. También fue día de fotos y antes de desayunar, alumnos y monitores se hicieron las fotos de grupo. En el desayuno, Sandy y Dany Suco nos vinieron a visitar… !Qué enamorados estaban!
Más tarde, los alumnos realizaron las clases de inglés con los teachers. En el descanso entre clases, Dany y Sandy se pasearon cogidos de la mano por el Sea Garden y los alumnos pudieron hablar con ellos y preguntarles por su relación. En la comida, los protagonistas de la fiesta volvieron a aparecer para despedirse porque Dany debía volver a la universidad de Prades. Entre lágrimas, cada uno emprendió su propio camino.
Después de comer y ver el espectáculo nos reunimos en la piscina y nos hicimos las fotos de equipo; los alumnos volvieron a clase y después de esta, todos nos dirigimos a la playa. Lo pasamos genial haciendo castillos de arena, jugando a palas y nadando. Volvimos al campamento y una vez hubimos merendado y repuesto fuerzas, empezó la rotación de los Olympics. Turtles-Eagles jugaron a baloncesto, Bears-Foxes a balonmano, Snakes-Dolphins a volley y Geese-Bees jugaron a fútbol.
Una vez nos duchamos todos, empezó la fiesta con los niños y niñas sentados en el suelo delante del Sea Garden esperando con ganas las actuaciones de los monitores. La primera fue cuando Dany y Sandy cuentan a sus amigos que se han conocido en verano y se han enamorado, y empieza a sonar el TELL ME MORE con los T'Birds y las Pink Ladies bailando tamién! La cena fue especial y un tanto diferente… Outdoor Froggy Burger Night! Cenamos hamburguesas en las gradas y en el jardín de Tamarit. Y de postre… ¡Helado!
Cuando acabamos de cenar, los alumnos se volvieron a sentar y seguimos con los teatros y bailes. Los monitores por parejas bailamos el You are the one that I want y el Grease Lightning! Una vez finalizadas las actuaciones empezó el concurso de baile por parejas. Para finalizar la fiesta dimos diplomas a los ganadores del Dance Contest y a las personas que se habían vestido mejor de rockeros y rockeras. Acabamos el día bailando dos canciones del turno y, agotados, nos fuimos a dormir!
¡Vaya pedazo de día! Hasta mañana.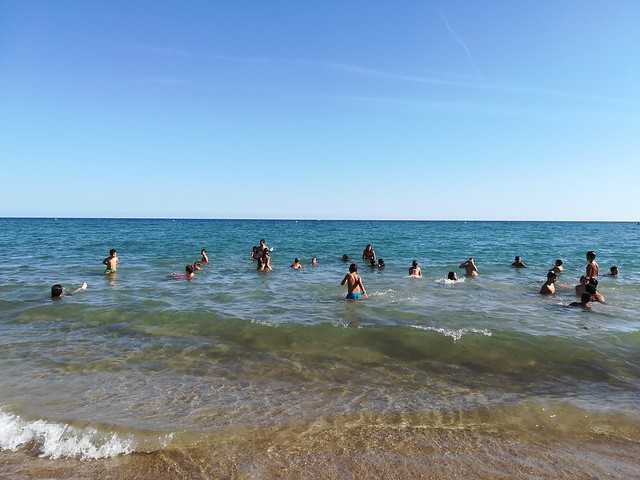 Good morning families,
Yesterday, Tuesday 4th, we were all very eager for the Rock & Roll party, a classic of our camp. It was also photo day and before breakfast, students and monitors took group photos. At breakfast, Sandy and Dany Suco came to visit us … How in love they were!
Later, students took English classes with teachers. During the break between classes, Dany and Sandy walked hand in hand by the Sea Garden and the students were able to talk to them and ask them about their relationship. At lunch, the protagonists of the party reappeared to say goodbye because Dany had to return to the University of Prades. Between tears, each one undertook his own path.
After eating and watching the show we met at the pool and took the team photos; the students returned to class and after this, we all headed to the beach. We had a great time making sandcastles, playing shovels and swimming. We returned to the camp and once we had a snack and replenish forces, the rotation of the Olympics began. Turtles-Eagles played basketball, Bears-Foxes handball, Snakes-Dolphins volleyball and Geese-Bees played soccer.
Once we all showered, the party began with the children sitting on the floor in front of the Sea Garden looking forward to the performances of the monitors. The first was when Dany and Sandy tell their friends that they have met in summer and have fallen in love, and the TELL ME MORE starts playing with the T'Birds and the Pink Ladies dancing too! Dinner was special and somewhat different … Outdoor Froggy Burger Night! We had burgers in the stands and in the garden of Tamarit. And for dessert … Ice cream!
When we finished dinner, the students sat down again and we continued with the theaters and dances. The monitors in pairs dance the You are the one that I want and the Grease Lightning! Once the performances were over, the dance contest began in pairs. To end the party we gave diplomas to the winners of the Dance Contest and to the people who had dressed better as rockers. We ended the day dancing two songs of the shift and, exhausted, we went to sleep!
What a day! See you tomorrow.