Good afternoon from the happiest place in Spain!
The students started their day bright and early at 8:00 AM when they were woken up by their monitors, though many students had already woken up due to their overwhelming excitement for the day's activities. To energize the students and promote healthy living, the students went outside to the courts for the daily Froggy games, which consists of various morning exercises led by the monitors.
After exercising, students fueled their bodies with a nutritious breakfast which was held at from 8:45 AM until 10:00 AM. Promptly at 10:00 AM, students proceeded to their assigned morning English classes, which were determined by their score on the English proficiency assessments that they had written the previous day. This year's English teachers include: Lola Oweseni, Amy Mitchel, Charlotte Stephen, Lauren Beresford, Katie Oliver, Rebecca Carey, Nicola Starr, Rachel Lancaster and Jodie Bain. Every day, students will attend class three times, during the morning (10:00-11:30 AM), in the afternoon (12:00-1:30 PM) and in the evening (3:00-4:00 PM).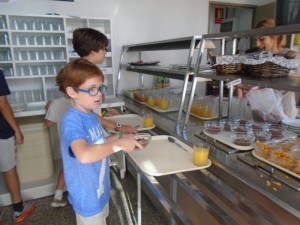 At 1:30 PM, the teachers joined their students for lunch where they bonded and promoted English conversation with the students. Under the hot Spanish sun, 4:00 PM was the perfect time to take a dip into the pool. The students gathered their swimming gear and proceeded to the community pool where they were able to take a refreshing swim under the watchful eye of the monitors and lifeguard.
As a tribute to the beloved Olympic Games, English Summer Vallclara will be holding its own Olympics Games as well! At 7:00 PM, the students met in their teams: the Bears, Bees, Dolphins, Eagles, Foxes, Geese, Snakes and Turtles. Through the instruction of their monitors, the students learned or became reacquainted with the game play of volleyball, baseball, basketball and football.
After dinner, the English Summer Vallclara Olympic Games Opening Ceremony began! The ceremony started with the lighting of the Olympic torch, which was carried by the team captains. The team captains are as follows: Guillem Galofre Gegui, Ferran Gome Tome, Alejandra Antepara Ortega, Josemaria Casanovas Puiggros, Adrien Toenig, Marina Fernandez Aguilar, Nuria Marco Martin, Mireia Solsona Zapata, Maria Lagunas Lago, Alejandra Pons Lahuerta, Max Rosa Echevarria, Pablo Martin Ruiz, Celia Milan Vea, Guillem Perez Reguero, Max Munne Mas and Marta Tarrus Escalada. The teams competed against one another in a variety of games and after an hour of fun, the Foxes were ultimately victorious, winning first place for Day 2 of the Vallclara Olympic Games. After an active but fun day of physical activity, the students went to bed at 11:00 PM.
Follow us through closely through our blogs and other social media including flickr and twitter, EnglishSummerSA.