Dear parents,
Yesterday we welcomed all the students to our renovated and renewed, Vallclara camp. The house has been entirely redecorated and improved for us and we are delighted to be here again. Our students came from all around Spain (Aragón, Bilbao, Mallorca, Catalunya,..) and have met each other and have been introduced to their monitors and teachers. There are more than 120 people at the house! Some of the students have been welcomed for the first time, while others have been coming for years and still return to the original and best, Vallclara.
Once all the students were placed in their rooms, the teachers divided them into classes in order to take the level exam. The teachers distributed the students according to the level of Cambridge University: Starters, Movers, Flyers, KET, PET,… (http://www.cambridgeenglish.org/exams/cefr/) in the different classes so as they can do their best and improve the most. Tomorrow we will be told the exam results!
Just after the exam, it was the time to meet the monitor's group and explaining the day in Vallclara, the activities, the duties and the World Championship. We understood the rules of the house and the timetable of a current day in Vallclara. The students enjoyed a fantastic dinner at the dining room and brushed our teeth before starting the first party of the term: Welcome to froggyland!
Froggy is our lovely and well known pet in English Summer and it had disappeared all around the house. In order to find Froggy, we had to play in monitor's group who after a while, gave us a clue. The clue indicated a place in the house where each group had to find a letter. Once all the letters where put together we discovered that the word hidden was Froggy, our pet's name! All together we called loudly: "Froggy, Froggy, Froggy,…". And with no advice our favorite frog Froggy appeared in the scene and danced for us.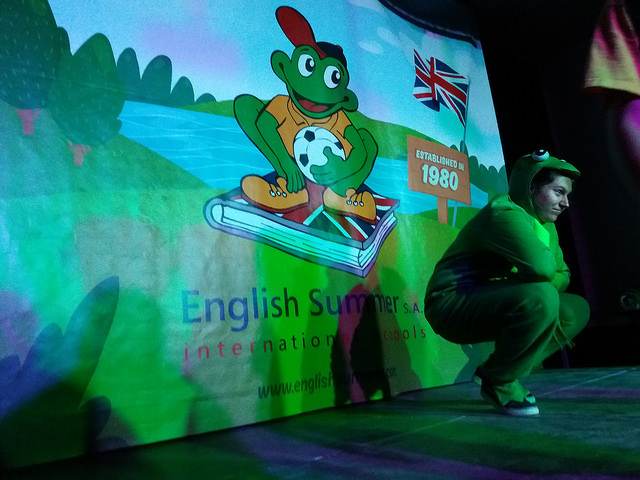 Afterwards, the teachers, monitors and directors presented themselves to the students and danced for the them with choreographies that the students copied and enjoyed a lot.
After all the emotions of the day, all the students went to bed excited for the adventures coming up tomorrow. We are so happy to have all the family back together!
Don't forget to follow us on Twitter, Facebook and Instagram! You have the pictures of the day available in the customer area.