Dear parents,
Today was another great day in Vallclara. Everything seemed to be normal except for one thing that appeared during the morning break in the middle of the garden! A big Christmas tree!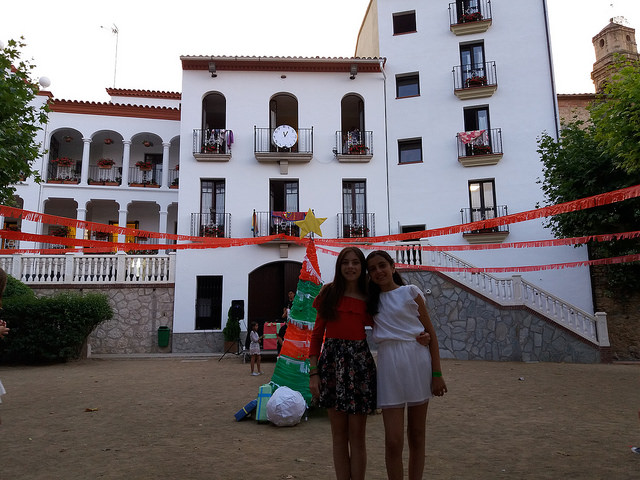 The students attended their classes in the morning and we all ate lunch together in the dining room before going to the classes again. Today's lunch were tasty tortellinis with carbonara sauce and meat.
During the afternoon English Activity, the teachers prepared and taught Christmas Carols: Jingle Bells, All I want for Christmass is you… The students danced and had so much fun with their teachers and their friends. Afterwards, as usual, we went to the swimming pool and ate our snack.
Once we had eaten the snack, we played Clubs and Olympics.  The teams are doing a great job! They are playing not only with enthusiasm, but also with fair play.
Today's party was: Christmas and New Year's Eve! We were organised into our Olympic teams in the middle of the garden surrounding the Christmas tree. Suddenly, Santa appeared in a sleigh with reindeer followed by two goblins and Santa Froggy. We were all surprised by the visitors who created a competition of singing carols, dancing and cheering.
Each one of the Olympic teams have a captain who is the one in charge of organising the team. On this occasion the teams had a very important role because they were the representatives of the team in the dancing competition and also in chosing the Christmas presents the teams received. These presents were: having their bed made for them, getting a massage, taking a chocolate shake and other great prizes!
Finally when our clock reached 12 o'clock, we ate the grapes which were 12 olives and we all wished «Happy New Year» to each other. Taking part in this tradition was new for many of the teachers an they enjoyed it very much. We went to bed happy having inaugurated a new year.
Merry Christmass and Happy New Year!
Don't forget to follow us on Facebook, Instagram and Twitter! You will find all the photos available in the customer area.