Buenos días a todos!
Nuestro primer día en los Campamentos de Verano en Vallclara ha empezado de la mejor manera posible. Nos despertamos a las 8:00 rápidamente para hacer Froggy Games, estos son juegos dinámicos y cooperativos que realizan los alumnos con los monitores antes de desayunar para empezar el día con mucha energía.
Tras esto, tomamos un desayuno variado que incluía magdalenas, cereales, fruta, tostadas, ¡y muchas más cosas!. Hoy han tenido su primera clase con las profesoras, han trabajado diferentes conceptos de vocabulario, gramática, lectura, sin olvidarnos de que se estudien de una manera entretenida y lo más divertida posible.
Durante su break pudieron comprar refrescos y aperitivos con sus pulseras en el bar para que siguieran el día con energía. Por la tarde, tuvieron la última clase de inglés donde realizaron diferentes juegos con las teachers. Tras esto, fueron a la piscina y al volver se reunieron con su equipo de Olympics, eligieron capitanes, himno y se explicaron las normas más básicas de los juegos que van a realizar.
A las 19:00 fueron a hacer clubs a un espacio habilitado que hemos creado este año para realizar las diferentes actividades, estas consisten en juegos de resistencia, habilidad y cooperación que hacen los alumnos con su equipo.
Después de una deliciosa cena por equipos, estos se reunieron en el teatro para hacer una marcha con su bandera hasta el escenario, enseñaron los himnos a todos los demás compañeros, jugaron a diferentes juegos como relevos, camino imposible y muchos más!. Finalmente terminamos la fiesta con el baile de los campamentos de English Summer de este año.
Recordad que subiremos información sobre el turno cada día en el Blog y las fotos en el Área de clientes. También podéis mandar vuestros mails a efsvallclara@englishsummer.com e intentar seguir nuestro ritmo de actividades en Facebook, Twitter e Instagram!
Un abrazo a todos y… tomorrow more!
Good morning to everyone!
Our first day in the Summer Camp at Vallclara´s house began the best way that it was posible.
We woke up at 8:00 a.m quickly for doing Froggy Games, those are dynamic and cooperative games that students play with their monitors before breakfast to start the day with a lot of energy!
On the other hand, we took a variety breakfast which includes magdalenas, cereals, fruit, toast and lot more! Today they had their first class with the teachers, they worked different concepts of vocabulary, grammar, Reading… without forgeting to do entertaining and funny classes. During the break, they could buy drinks and snacks with their bracelets. In the afternoon, they had their last class where they did different games with the teachers. After this they went to the swimming pool. They returned to the house and they met with their olympic team to choose  the captains, anthem and we explained the basic standards to do the games.
At 7:00 p.m. they went to do clubs in a space that we did this year only for doing this games, which consists in resistance, ability and cooperation games that students did with their team.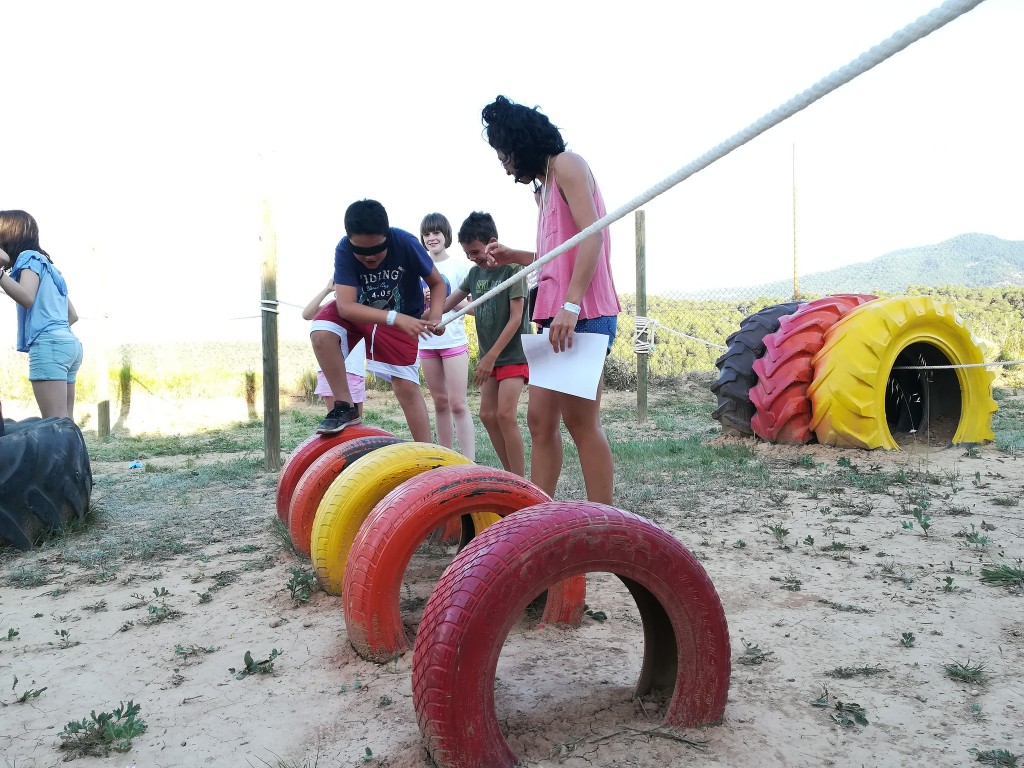 After a delicious dinner with their teams, they met together at the theatre and they went to the football court to teach other teams their anthems, they played different games like relays, impossible way and lot more! Finally we finished the party with the dance of the year.
Remember that we will post information everyday about the term in the blog and the pictures at the Customer Area. You can send e-mails to efsvallclara@englishsummer.com and try to follow us in Twitter, Facebook and Instagram. Thank you and see you tomorrow!!