Bienvenidos un día más al blog de Vallclara!
Ayer nos despertamos a las 8:00 para hacer Froggy Games en los campamentos de verano!
los niños y niñas estuvieron jugando durante 30 minutos antes de ir a desayunar. Tras el desayuno, tuvieron tiempo libre y estuvieron jugando al World Championship, estos son juegos como ajedrez, bádminton, tenis… donde los niños compiten por equipos para conseguir puntos extras para los Olympics.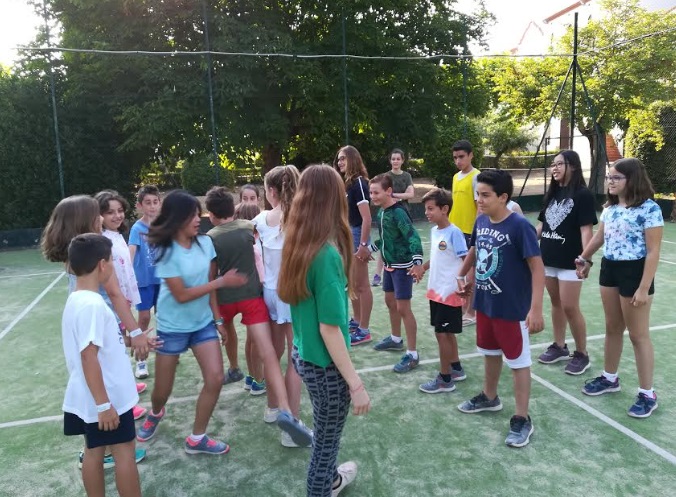 A las 10:00 comenzaron sus clases de inglés hasta las 11:00, a esta hora se reunieron todos los alumnos con su monitor con la camiseta de los Campamentos de English Summer porque era día de fotos.
A las 11:15 volvieron a clase y mientras el fotógrafo les hizo fotos reflejando todo lo que aprenden en las clases de inglés.
Durante la tarde, después de tomar una comida deliciosa, los alumnos tuvieron su última clase de inglés donde hicieron diferentes juegos con sus teachers. Tras esto, los alumnos se vistieron con la camiseta de equipo y fueron hasta la piscina, donde se hicieron la fotos por equipos.
A las 18:00 jugaron OLYMPICS: Bears vs Dolphins a Football & Basketball; Bees vs Eagles a Basketball & Volleyball. A las 19:00 tuvieron CLUBS, Dolphins y Eagles realizaron la actividad de Nature Walk, una excursión por la montaña donde pudieron apreciar diferentes tipos de insectos, plantas y admirar el paisaje. Los Bees y Bears  viajaron por el mundo con los juegos de Games Around the World, jugaron al paper, scissors, rock en América, al Chinese Football en China y a la Banderiña en Brasil.
Tras esto, tuvieron tiempo para vestirse con sus mejores galas, ya que ayer fue la fiesta de Formal Dress, los alumnos cenaron fuera con su monitor una cena especial que consistía en tapas variadas como croquetas, patatas bravas, mini pizzas, etc.
Durante la cena pudieron disfrutar de tres conciertos en directo, uno que realizaron Pol Candela, monitor y Paula Solé, MP, otro realizado por Valeria Hernaiz , alumna, y otro realizado por las teachers.
Llegó el momento más esperado,¡la entrega de premios!, se repartieron premios para el alumno más educado, la habitación más ordenada, el más amable, la mejor sonrisa, etc. Por útimo se entregaron los premios más esperados por los alumnos,¡Miss y Mister Vallclara 2018!, los ganadores fueron Irina Regueiro y Antonio López, ¡Enhorabuena a todos!.
La fiesta finalizó con unos bailes tradicionales de los Campamentos English Summer, y por último, ¡el baile del verano! Fue una fiesta muy esperada por todos y nos lo pasamos genial.
Recordad que cada día actualizamos el Blog con nueva información sobre el turno. Las fotos las podéis ver en el Área de Clientes. Además podéis mandar vuestros mails a efsvallclara@englishsummer.com e intentar seguir nuestro ritmo de actividades en Facebook, Twitter e Instagram!
Un abrazo a todos y ¡hasta mañana!
 …
Welcome to one more day of Vallclara's Blog!
Yesterday we woke up at 8:00 a.m to play Froggy Games, they were playing for 30 minutes before breakfast, after that, they had a small break and they were playing World Champioship, these are games like chess, badminton, tennis…where the kids compete in teams to get extra points for their olympic team.
At 10:00 a.m the English classes began, after at 11:00, they met all the students with their monitors with the English Summer t-shirt because it was pictures day!
At 11:15 a.m they returned to English class and during the class the photographer took pictures reflecting all that they have learned in English class.
During the afternoon, after a delicious lunch, the students had their last class where they did different games with the teachers. After that, the students dressed in the English summer team t -shirts and they went by teams to the swimming pool and they took pictures with the team.
At 18:00 they played Olympics, Bears vs Dolphins, football and basketball, and Bees vs Eagles, Volleyball and basketball. At 19:00 they had clubs, Dolphins vs Eagles did the Nature Walk activity, it's a mountain excursion where they could appreciate different types of insects, plants and look at the landscape. The Bees and Bears travelled to different countries playing Games Around the World.
After that, they had time to dress with their best clothes, becasue yesterday was the Formal Dress party, the students had a special dinner outside with their monitors that consisted of variety «tapas» like croquetas, french fries with sauce, mini pizzas,etc…
During the dinner they could enjoy 3 live concerts from the monitors, a student and the teachers.
Then began the most important part of the party, the awards ceremony, they were awards like the most polite, the best tidy room, the most friendly,etc… and for the last, the most anticipated moment for the students, the awards of miss and mister vallclara 2018, the winners were Irina Regueiro and Antonio López. Congratulations everyone!.
The party ends with traditional dance of English Summer Camps and the dance of the summer.
Remember that we will be posting more information about the term on th blog and you can see updated pictures in the client area.  You can also follow us on Facebook, Twitter and Instagram.
Tomorrow more!