¡Bienvenidos un día más a día a día de nuestros campamentos de verano en Vallclara!
Ayer nos despertamos a las 8 de la mañana y, como normalmente, comenzamos el día con los froggy games. Tras desayunar, fuimos a clase y conocimos a nuestra nueva teacher. Después de nuestras clases de inglés subimos a comer, y por la tarde, jugamos a juegos con las teachers y fue súper divertido.
A las cuatro fuimos a darnos un chapuzón a la piscina de Vallclara, jugamos, reímos e ¡incluso bailamos!
Después de esto fuimos a preparar el himno para nuestro equipo. A las 7 tocaban clubs: ¡Qué ganas de los clubs de hoy! Nos lo pasamos genial.
Despues de los clubs nos aseamos y fuimos a cenar. A la noche nos tocó presentar el himno al resto de los compañeros y jugamos a diferentes  juegos. Tras esto, y unos cuantos bailoteos, time to go to bed!
Cada día actualizamos este Blog con nueva información sobre el turno. Podéis ver las fotos de vuestro turno en el Área de Clientes y mandar mails a efsvallclara@englishsummer.com. También recomendamos seguir nuestras redes sociales: Facebook, Twitter e Instagram.
¡Un abrazo y hasta mañana!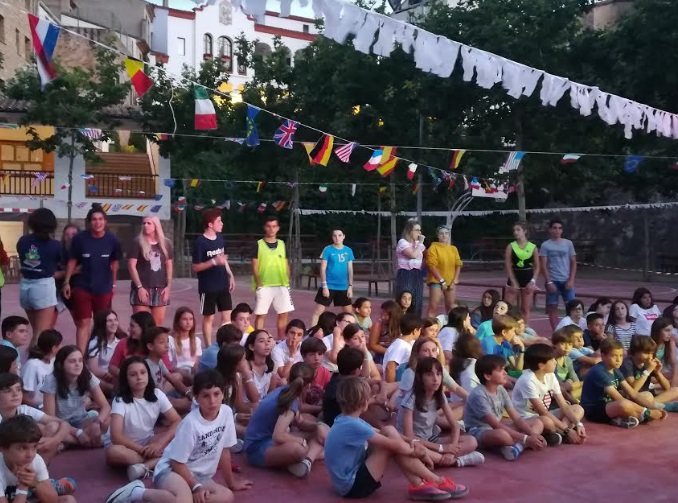 Welcome to one more day of Vallclara's Blog!
Yesterday we woke up at 8 o´clock and we started the day with Froggy games. After breakfast, we went to class and we met our new teacher.
Once the morning classes finished we went to have lunch. In the afternoon we played games with our teachers and it was lots of fun. At 4 o´clock we went to Vallclara's swimming pool. It was amazing! We played, laughed and we even danced!
After the pool, we met our teammates and prepared our team´s anthem. At 7 o´clock it was clubs´ time. We enjoyed ourselves so much! We can´t wait for clubs´ this afternoon!
At 8 o´clock it was shower time. Then, we went to have dinner.
Last night´s party had an Olympic´s theme, and we had to present our team´s anthem to the rest of the students, teachers and monitors. After this, we played various games and danced to different songs. Finally, it was bed time, and we all went to sleep.
More information about the term on the blog and you can see updated pictures in the Clients Area.  You can also follow us on Facebook, Twitter and Instagram.
Tomorrow more!