Hello parents!
Finally, the best moment of the summer has arrived! We are all here with a lot of energy and our smiles on!!
El dia empezó por la tarde, cuando llegamos al campamento de inglés de Vallclara y pudimos conocer a todas las personas del staff que nos van a cuidar y guiar durante estos días, desde monitores hasta MPs y teachers. Everybody is so excited for these weeks!!
Afte we played for a while in the football court, we went with the english teachers to take the placement test. Así los teachers nos pueden poner en la clase que más nos favorece según nuestro nivel de inglés.
Before dinner we got to play together to know each other playing some games with our monitor, MP and our roommates. ¡¡En muy poco tiempo pudimos conocernos todos!!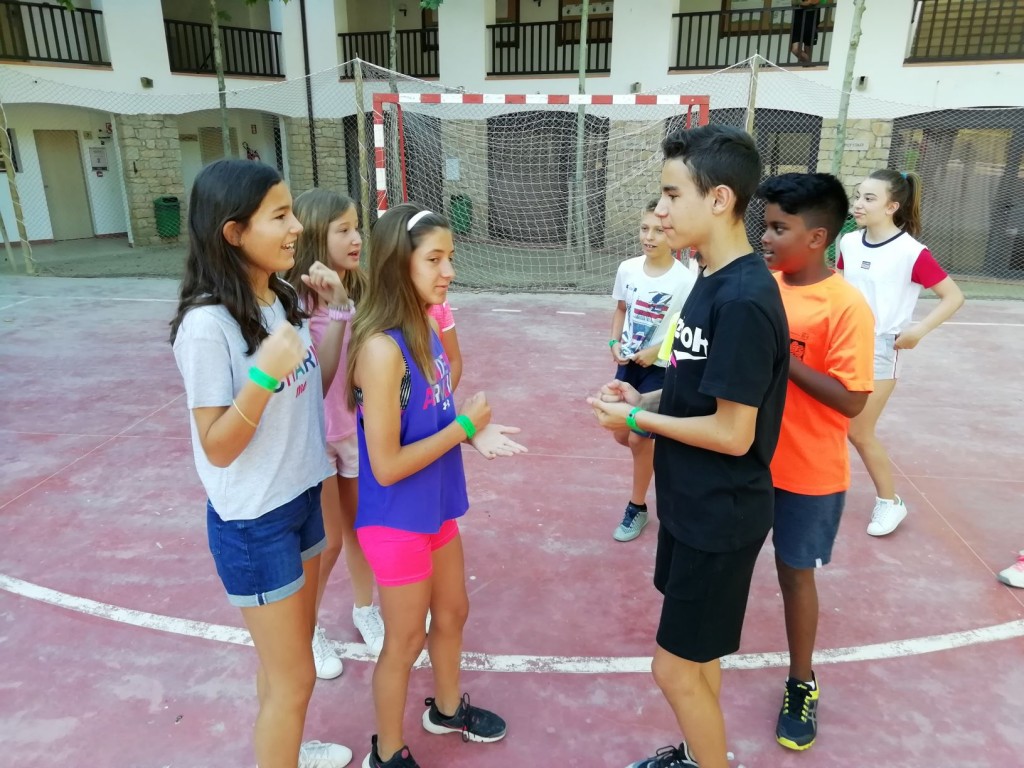 Después de cenar nos fuimos todos a lavar los dientes y ya estábamos preparados para la noche. ¡¡Que ganas de la primera fiesta!!
We went with our roommates and with some other friends to diferent spots in the house to play more games. Con estos juegos pudimos socializar y conocer a muchos nuevos amigos. Además, a las 8 llegó el grupo del norte de España, que se nos unieron con mucha fuerza después de cenar para participar a los juegos y así pudimos conocernos todos.
Getting to know all the other students was so much fun, but we had to move on. So we went to the theater. There we found mini froggy and baby froggy. Dos pequeñas ranas que, según una alumna que hablaba froggy language, habían perdido a su familia. Así que tuvimos que colaborar con nuestro equipo para encontrar al resto de la familia, a mama froggy y daddy froggy.
After reuniting all the family we got a froggy party!! ¡¡Reímos, cantamos y pudimos aprender el baile del turno entre otros!!
Al terminar la fiesta, ya nos fuimos a poner el pijama para dar punto y final a un primer día en Vallclara muy intenso. ¡Ya tenemos ganas de levantarnos con nuestros nuevos amigos!
Os recordamos que podéis seguirnos por todas nuestras redes sociales: Facebook, Twitter, Instagram y acceder al área de clientes desde dónde podéis ver todas las fotos de vuestro campamento.
See you soon!