Hello parents!!
After a great sleep we woke up full of energy and with a lot of hunger. So we dressed up and went to the dinning room to have breakfast and get ready for the day.
Later on, like every day, we had a very entretaining and interesting english class with our favorite teachers. It was so much fun!!!
Mientras iba pasando la mañana e intercalábamos clase de inglés y un poco de free time pudimos jugar algunos de los últimos partidos del World Championship. ¡¡Empiezan a quedar muy pocos partidos y los partidos están candentes!!
It was midday when we finished the morning class and we went to have an amazing lunch. After lunch we had some free time to get ready before playing english games with the teachers!!
Al acabar los juegos en inglés con las teachers nos pusimos la crema de sol, los bañadores y las gafas de sol y para paliar el calor fuimos directos a la piscina. Hubo agua, sol y muchas risas. ¡¡Nos lo pasamos en grande!!
Cuando volvimos de la piscina nos reunimos por equipos y subimos a las eras. Era el momento de fomentar la cooperación y el trabajo en equipo con algunos juegos que pondrían a prueba desde nuestro nivel comunicativo con los compañeros hasta nuestra inteligencia colectiva.
When we finished these activities we were with hhungry of compiting, so we went with our teams and made a rotation of Olympics, compiting on football, volleyball, basketball and dodgeball.
We continued with the day takeing a shower and having dinner.
Durante la noche hicimos The Big Froggy Game. Con un tablero y un dado gigante nos pusimos por equipos. Según donde caía nuestra ficha nos íbamos a una parte de la casa para jugar a un juego y luego volvíamos al tablero para tirar otra vez.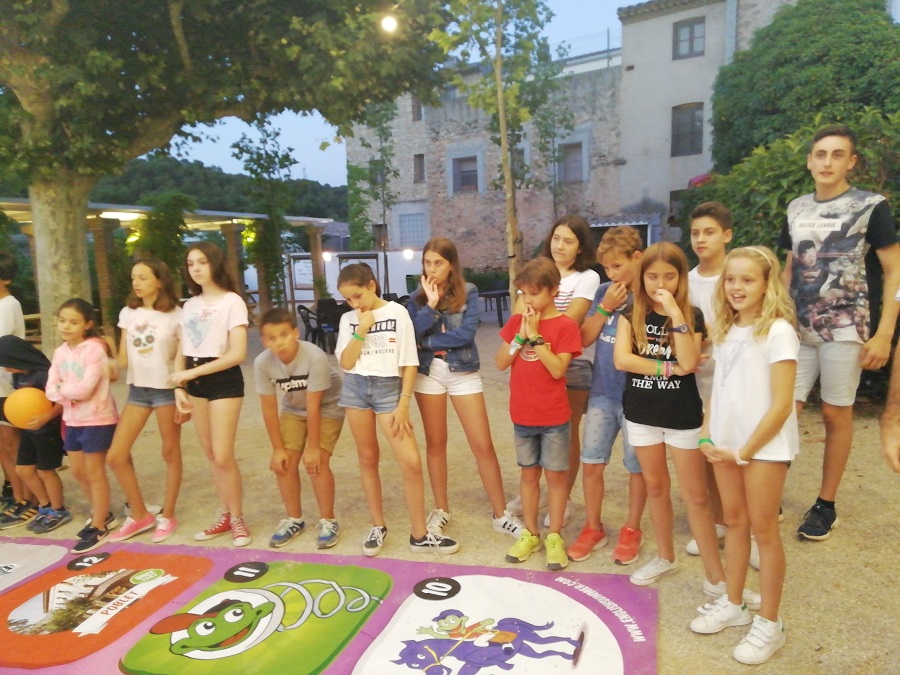 ¡¡Así fue nuestro día y así os lo hemos contado!!
Os recordamos que podéis seguirnos por todas nuestras redes sociales:  Facebook, Twitter, Instagram y acceder al área de clientes desde dónde podéis ver todas las fotos de vuestro campamento.
See you soon!