Hello everyone! Welcome back to our blog, hope you are having a very nice week! Here in Vallclara we had a very intense day as there were  a lot of activities planned for today. Once all the kids woke up it was time for the Froggy games, it honestly helps them to wake up.
After Breakfast, as always, it was time to go to the English classes to learn a lot. The kids are making a lot of effort to speak in english and do the English Challange for the olympic games.  At break time, the official photografer came to spend the day with us taking many photos of everybody. We took the group's monitor, the general, the sports team and individuals photos.
We ate delicious lentils salad and roast beef for lunch. When the children had free time, they had the chance to play the world championship. It consists in a competition where the kids have to play  individually some sports such as ping-pong, tennis, badminton and chees;  if they win the competition they receive extra points for the their team.  At 15:00, it was time for the afternoon English class which is more dinamic. The kids played outdoor games turning this lessons into more practical ones.
Afterwards, they had a very special surprise, it was Foam party time!!! We went to the tennis court and the monitors prepared the party with music and the necessary foam. It was amazing how excited the children were, they had a lot of fun!!!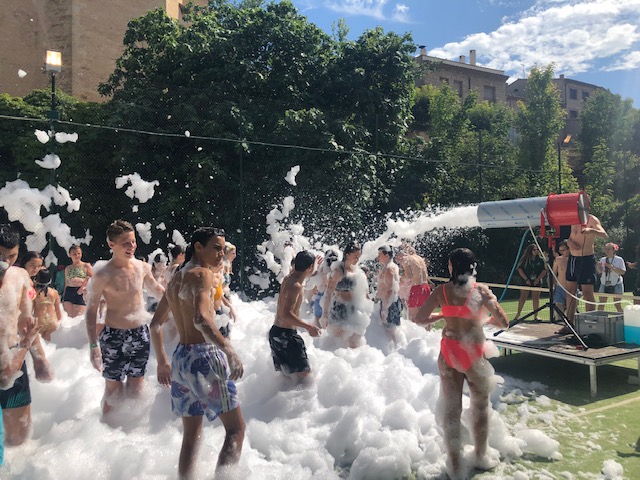 After the incredible party we had, it was time for more fun! Everybody went to get freshed at the swimming pool. The weather was incredible for the occasion.
When the afternoon snack was over, it was time for the first day of the Olympics. The children were very competitive and they made a lot of effort to do their best always respecting the fair-play.
Later, it was time to take a shower and have dinner. Thereafter, Vallclarua, the polynesian village, was waiting for them.
Three different teams played between them to helped their team to perserve the village. The Village were the white team, the Hakka's were the red team and the animals were the yellow ones.
After all, froggy came to explain them the important values of respect and fairplay and he proposed to share the village and not to fight between them for keeping the village just for them. So they learned a moral of a fable. It was already night time, so they put their pijama's on and  went straight to bed as it was a really long day.
Stay tunned for tomorrow's blog because day after day is getting more excited!! Don't forget to follow us at Instagram, Facebook, Twitter and because we are posting lot of fun photos. See you tomorrow!!!
———
¡Hola a todos! ¡Bienvenidos de nuevo a nuestro blog, esperamos que estén  teniendo una semana muy agradable! Aquí en Vallclara hemos tenido un día muy intenso, ya que teníamos muchas actividades planeadas. Una vez todos los niños se despertaron, llegó la hora de los Froggy games. Estas actividades ayudan mucho a activarlos y a despertarlos.
Después del desayuno, como siempre, era hora de ir a las clases de inglés para aprender mucho. Los niños están haciendo un gran esfuerzo para hablar en inglés y para hacer el «English Challenge» para los juegos olímpicos. Cuando tuvieron el descanso, el fotógrafo oficial vino a pasar el día con nosotros para tomar tantas fotos de todos los niños como fuese posible.
Comimos una deliciosa ensalada de lentejas y carne asada para el almuerzo. Durante el tiempo libre, los alumnos tienen la oportunidad de jugar el campeonato mundial. Este consiste en competir individualmente a deportes como ping-pong, tenis, bádminton y ajedrez. Si ganan, obtienen más puntos para su equipo. A las tres en punto, toca la última clase de inglés que es la más dinámica. Los niños juegan al aire libre siendo así más prácticas.
Después de las clases, los monitores tenían preparada una sorpresa muy especial, ¡fiesta de espuma! Fuimos a la cancha de tenis y los monitores prepararon la fiesta con música y la espuma necesaria. ¡Fue increíble lo emocionados que estaban los niños, se divirtieron mucho!
Después de la increíble fiesta que tuvimos, ¡era hora de más diversión! Todo el mundo fue a refrescarse en la piscina, era tan brillante y el clima nos ayudó.
Cuando terminamos de tomar el bocadillo de la tarde, era hora del primer día de los Juegos Olímpicos. Cuanta competición y esfuerzo para hacerlo bien, siempre respetando el juego limpio.
Una vez todos duchados y cenados… Vallclarua, el pueblo polinesio, los estaba esperando.
3 equipos diferentes jugaron entre ellos para ayudar a su equipo a preservar el pueblo. Los Village eran el equipo blanco, los Hakka eran el equipo rojo y los animales eran los amarillos.
Froggy vino a explicarles lo importante que son valores del respeto y el juego limpio, y él propuso compartir el pueblo y no luchar entre ellos por mantener el pueblo solo para ellos. Así aprendieron una moraleja. La noche llegó y fue hora de ponerse los pijamas y de lo cansados que estavan se fueron directamente a la cama y en un abrir y cerrar de ojos ya estavan todos durmiendo.
¡Estad atentos al blog! , puesto que día tras día va a ser más emocionante! No se olviden de seguirnos en Instagram, Facebook y Flickr porque estamos publicando muchas fotos divertidas e información importante. See you tomorrow!!!