Hello to everyone!
I hope you are having a fantastic day! Here in Vallclara everything is going really well and the children are very very happy. The English classes are doing really well and the kids are improving immensely. Yesterday it was a great day, we had a very special breakfast where the children could feel like they were having an English breakfast in London. The food was incredibly good and afterwards we were ready to delight in the clases.
Between the first and the second class we always take a break to rest a little bit and we have time to eat a litte snack that they could choose either to have a piece of fruit that we give them or to buy theirselves a snack or icecream in the bar.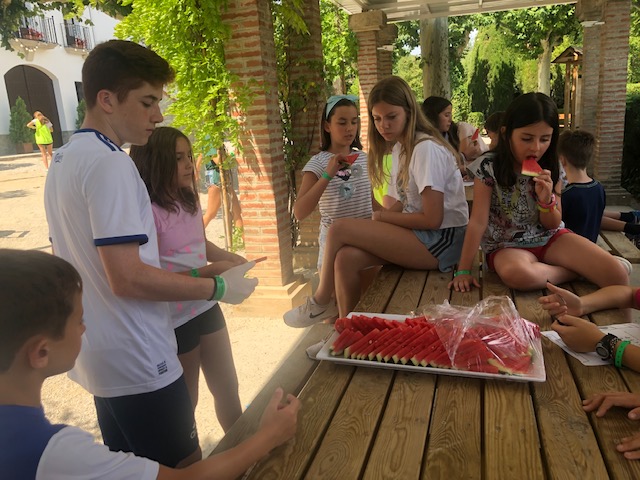 Yesterday for lunch we ate spaghetti carbonara and meatballs, it was exquisite!! Thereafter they went back with their English Classes and during that class they had the chance to start practising the song of the term that they will sing the last day.
As the day passed everything was going as planned, swimming pool time, clubs and olympics. The competitions day after day is getting harder and harder and the children are getting more competitive as the days ara passing.
Tonight's party was one of the favourites ones at the moment, the children were charmed and specially motivated. We played a big game were the teams had to battle to get to the finish line. After fighting a lot finally the Dolphins beatted the rest of the teams and they were proclaimed winners.
Don't forget to stay tunned with all our social networks as we are posting everyday more photos and to know information about us. The potos of the that we are posting everyday are posted in flickr; and you can also follow us in Facebook and Instagram to know more about us!! Thank you so much for trust in us everyday, see you tomorrow!!
—
Hola a todos!
Espero que estéis teniendo un día fantástico! Aquí en Vallclara todo va muy bien y los niños están muy contentos. Las clases de inglés les van realmente bien y los niños están mejorando bastante.
Ayer fue un gran día, tuvimos un desayuno muy especial donde los niños podían sentirse como si estuvieran tomando un «English Breakfast» en Londres. La comida era increíblemente buena y después ya estaban listos para darlo todo en las clases.
Entre la primera y la segunda clase siempre nos tomamos un descanso para relajarnos un poco comer un pequeño «snack», pueden elegir entre una pieza de fruta que les damos o bien, ir al bar a comprar un helado o snack. 
Para comer tuvimos espaguetis con carbonara y albóndigas, estaba exquisito! Después de comer volvieron a sus clases de inglés y durante esa clase tuvieron la oportunidad de comenzar a practicar la canción del turno que cantarán el último día.
A medida que pasaba el día, todo iba según lo planeado, un rato en la piscina, «clubs» y después los olympics games. Las competiciones día tras día son cada vez más difíciles y los niños se vuelven más competitivos a medida que pasan los días.
La fiesta de esta noche era una de las favoritas hasta el momento, los niños estaban encantados y especialmente motivados. Jugamos a una gran «Froggy oca» en el que los equipos tuvieron que luchar para llegar a la meta. Después de pelear mucho, finalmente los Dolphins vencieron al resto de los equipos y se proclamaron ganadores.
No te olvides de estar atento a todas nuestras redes sociales y el álbum de fotos del Área de clientes donde publicamos todos los días fotos. 
¡Hasta mañana!