Good morning to everyone!! Hope you are enjoying your week!
Here in Vallclara we are not wasting our time and we are all day long having fun and learning English. Yesterday it was a very special day in Vallclara, it was the formal dress night and the kids were really excited for the party.
To start the day in a different way we wake up and we went to the dinning room and we had a special breakfast, we had the «reverse breakfast» and everyone was wearing their clothes and walking backwards.
The English clases are going fantastic and the kids are learning a lot of grammar, vocabulary, reading and speaking. After the first class, as always we did a break and everyone played the world championshìp because the end of the week is coming. The second class the teachers swaped so the children have two different teachers for both clases.
Yesterday we had a delicious lunch that everyone ate everything leaving not a shred of food. We had rice with tomato and nuggets, the kids were delighted.
The temperature was fantastic and we had a very shinny day so it was perfect to take a dip in the pool. We had all typed of balls and different games that the kids enjoy a lot in the swimming pool. so once everyone had their suncream and the swimsuit on we set course to the pool.
Yesterday we finished the afternoon activities earlier to have more time to get ready for the formal dress night, so they had 45 minutes to take a shower and put their best fancy clothes.
We had a incredible night; we ate outdoors an exquisite food that everyone enjoyed so much. We took the advantage to take a lot of photos as everybody was so pretty and handsome.
After the dinner everyone went to take some swaters as it was getting a Little bit cold. When the children went to their romms we got the chance to put all the chairs as a theatre to take pass to the awards ceremony. Everyone was really happy with their awards thet recieved. The most important award was to the miss and mister Vallclara, and the oscar went to….. Guillem Orge and Carlota Vigo!!!! Congrats to both of you! we are really proud of all of you. All the kids are being really good to everyone.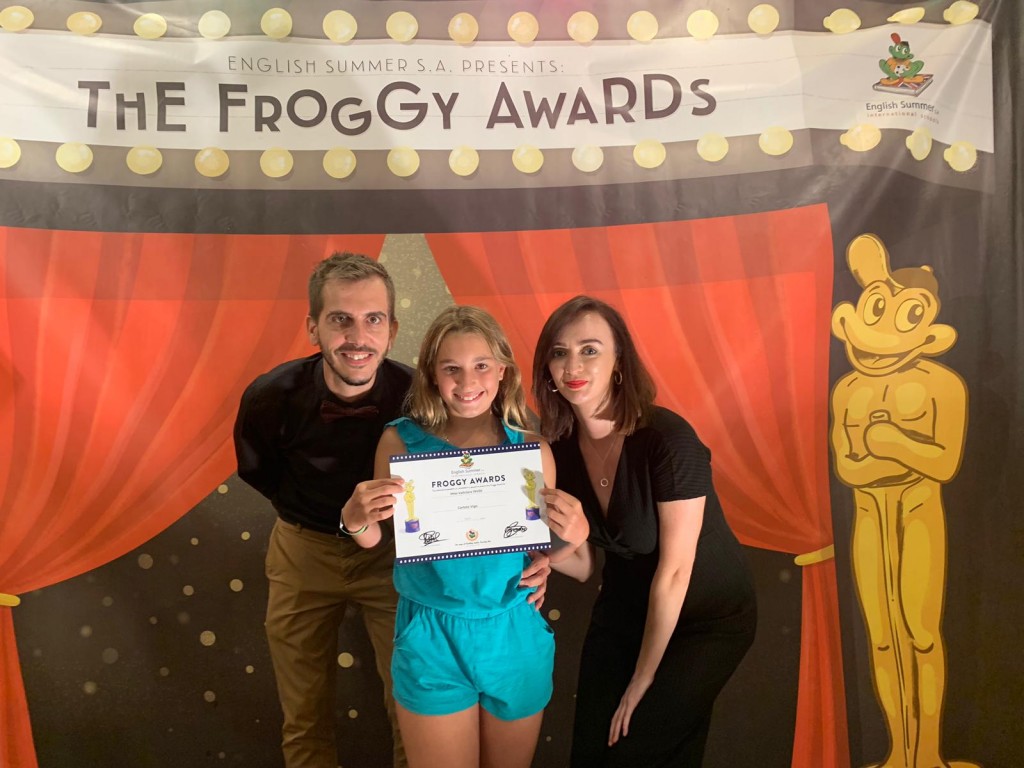 For today we are done and we are so joyful for what going to happen tomorrow. Don't forget to follow us in out social networks and to visit your Costumer Area to see all the photos we are taking.
Thank you so much for trusting in us!! See you tomorrow!
—
¡Buenos días a todos! Espero que estéis disfrutando la semana; aquí en Vallclara estamos aprovechando muchísimo el tiempo y estamos todo el día divirtiéndonos y aprendiendo inglés. Ayer fue un día muy especial en Vallclara, fue la noche de los «Froggy Awards» y los niños estaban muy nerviosos por la fiesta y por la entrega de premios.
Para comenzar el día de una manera diferente, nos levantamos y nos dirigimos al comedor y tuvimos un desayuno especia, hicimos «the reverse breakfast», todos llevaban sus ropas al revés y caminaban hacia atrás.
Las clases de inglés están yendo fantásticas y los niños están aprendiendo mucha gramática, vocabulario, lectura y habla. Después de la primera clase, como siempre, hicimos un descanso y todos jugamos al «world championship» porque se acerca el fin de la semana y hay que saber quién se llevará el primer puesto. En la segunda clase, los profesores se  cambiaron para que los niños tengan distintos teachers para ambas clases.
Ayer tubimos para comer un menú delicioso que todos comieron todo sin dejar ni un trocito de nada. Teníamos arroz con tomate y Nuggets, los niños estaban encantados.
La temperatura era fantástica y tuvimos un día muy soleado, así que fue perfecto para darse un baño en la piscina. Así que una vez que todos tenían su protector solar y su traje de baño nos pusimos rumbo a la piscina.
Ayer terminamos las actividades de la tarde más temprano para tener más tiempo para prepararnos para la noche, por lo que tuvieron 45 minutos para ducharse y ponerse la mejor ropa elegante.
Tuvimos una noche increíble; Comimos al aire libre una comida exquisita que todos disfrutaron muchisimo. Aprovechamos la oportunidad de tomar muchas fotos ya que todos estaban muy guapos.
Después de la cena, todos fueron a coger algo de abrigo ya que se estaba refrescando. Cuando los niños fueron a sus habitaciones, tuvimos la oportunidad de poner todas las sillas como un teatro para pasar a la ceremonia de premiación. Todos estaban realmente felices con los premios recibidos. El premio más importante fue para la «miss and mister» Vallclara, y el Oscar fue para … ¡Guillem Orge y Carlota Vigo! Felicidades a los dos! Estamos muy orgullosos de todos ellos. Todos los niños están siendo muy buenos con todos.
Por hoy hemos terminado y estamos muy felices para ver que pasará mañana. No se olviden de seguirnos en nuestras redes sociales y visitar nuestro album de flickr con todas las fotos que estamos subiendo.
¡Muchas gracias por confiar en nosotros! Hasta mañana!