Hello to everyone!! welcome back to our everyday new blog! Here in vallclara the temperature has increased a little bit but this won't stop us to keep having fun as always.
Yesterday, the day started really calm with a special breakfast, we did a silence breakfast so everyone stayed in silence in the dinning room. they did it really well.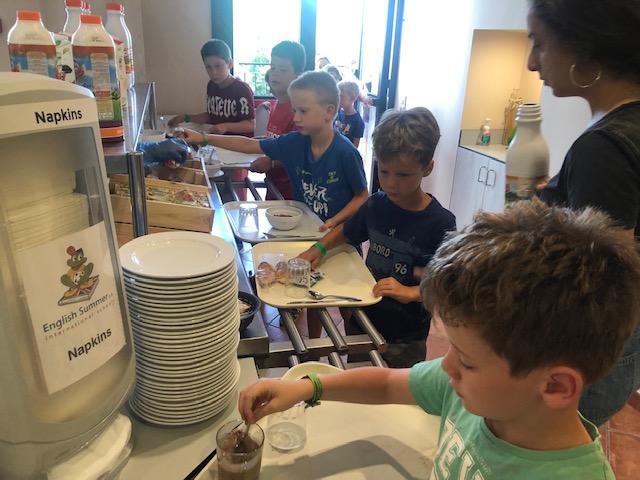 Afterwords the day continued as always, at 10:00h the first class, then a lillte break to have a snack that it can be either a fruit or something from the bar.
Later we had lunch and we ate checkpeas and chicken nuggets. It was delicious!!
At the swimming pool time we had a special event, we did a swimming competition between the different sports teams. They did their best to try to be as fast as possible.
Then we had at 5:30 an exquisite mallorca's traditional bakery «ensaïmada» that everyone enjoyed it a lot.  At clubs time we did the super fun activities that everyday the different teams are doing such as karts, yoga, the escape room…
Yesterday we did the first rotation of the olympic games and everyone was so excited to keep trying to be the first at the competition.
We went quickly to take a shower to get ready for the rock and roll party!! Once everyone was prepared they sitted to their place in the outdoor tables with all the decoration acclimated in USA to simulate they were in a high school in Amercia as in the film Grease.
After the little theatre that the monitors did it was time to have dinner, we had a typical american burger with soda drinks and ice cream.
Everybody was already full so we did some activities that the teenagers in the film did in the america's fair. For example we prepared some bowling, tha karts, and shooting to balloons or shooting a wet cloth to some members of the staff. It was so funny!!
Mean while there was a dance contest that they did in pairs. there was different winners, the senior pair and the junior pair. Apart from these awards there was an award for the best fancy dress of that night.
At the end we did the last song, Grease lightinning!!! everyone was following the steps really good! It was 23:00 so sadly it was time to go to sleep, but as everyone was so tired after dancing a lot it was really easy to fall asleep.
Thanks parents to be here everyday reading the blog and watching all the photos that you can fins in your cosumer's area. See you tomorrow!!!